Meredith Sue Willis's

Books for Readers # 155

August 30, 2012

---

Herta Muller John Douglas Thompson Jayne Anne Phillips J. McHenry Jones
In this Issue:
Free e-mail subscription to this newsletter.
To create a link to this newsletter, use this permanent link .
For Back Issues, click here.
---
In response to my last issue's request for well-written works that are serious as literature and also have political impact, several people sent excellent suggestions and lists.
Jane Lazarre
wrote, " If you like [Chinua] Achebe, you will find his essays about literature wonderful and eye opening– especially the early one, HOPES AND IMPEDIMENTS. Also the other novels."
Pamela Erens
began with Achebe too, and said, "I love WHEN THINGS FALL APART; I think it's just an amazing novel, [and] I think Jonathan Franzen's FREEDOM is a terrific book– there's quite a bit of political content (feminism, Iraq, the environment, population control) and it's of high literary quality. The political content ranges from gently to highly satirical, but I think that makes it particularly effective– what goes down with humor works its way into your system before you know it. Franzen is clearly a lefty and yet he makes it clear that the left doesn't have a lock on virtue or common sense or effectiveness."
Pamela goes on to say, "I tried reading WOLF HALL [by Hilary Mantel]. I know some people love it, and it's been treated as a literary novel, but I don't think it is one. The characters are interesting only externally, and there's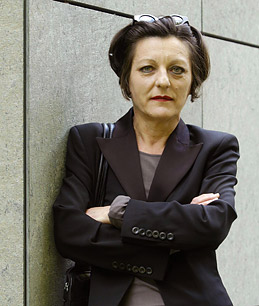 nothing particularly great about the language." For more on WOLF HALL, see my comments at
http://www.meredithsuewillis.com/bfrarchive141-145.html#wolfhall
.
Leora Skolkin-Smith
suggested the work of Nobel Laureate Herta Muller: "She is absolutely breath-taking and won the Nobel Prize a year or so ago. Her work is about her life behind the Iron Curtain and is terrifying, expresses personal desperation, hunger, and political oppression under the Soviet dictatorship. She's a magician, truly, making us feel what that life was like during the Cold war." Skolkin-Smith also suggests Christa Wolf and Efriede Jelinek "also a Nobel Prize winner, who expresses political tensions through sexual imagery and language in contemporary Germany. I am deeply saddened that these extraordinary writers, hailed in Europe never seem to find their way into American bookstores..I know I have learned more from them as a writer than any others."
Phyllis Wilson Moore
gives us a list of books by writers from West Virginia and the Mountain South. Here is her list, with her comments:
1. LARK AND TERMITE by Jayne Anne Phillips is as much about the horror and futility of war as anything else. (See a discussion of this novel HERE)
2. MACHINE DREAMS is another futility of war novel by Phillips.
3. SCREAMING WITH THE CANNIBALS by Lee Maynard gives a birds-eye view of the Civil Right era and issue as they evolved. The county Myrtle Beach is in instigated a movement to end school segregation just as the time our young man was there messing around with the black beach and its residents, etc.
4. EMILY'S GHOST by Denise Giardina has much to do with women's rights and the abuse of the working class.
5. The novels you mentioned [in Issue # 154] all seem appropriate, especially THE HELP.
6. Nonfiction by a West Virginia author on the same subject is WHENCE COMETH MY HELP by Ethel Morgan Smith.
7. HEARTS OF GOLD by WV's J. McHenry Jones and WVU Press
8. I just finished ANGEL HEAD: MY BROTHER'S DESCENT INTO MADNESS by Greg Bottom. It's so truthful it hurts. It also shows the plight of trying to get help for the mentally ill. He's not a WV author but I forgive him.
9. James Joyce's PORTRAIT OF THE ARTIST is an interesting take on one possible result of guilt-producing religiosity.
10. Your sit-in and VISTA novels [TRESPASSERS and ONLY GREAT CHANGES] qualify.
11. Denise Giardina's coal mine war novels [THE UNQUIET EARTH and STORMING HEAVEN] seem to fit.
12. SISTERS OF SILENCE by Darleen Berry is a new WV novel about wife abuse--both sexual and physical.
13. LIFE IN THE IRON MILLS by Rebecca Harding Davis is about the mistreatment of the iron mill laborers. Davis also wrote WAITING FOR THE VERDICT about racial issues and PUT OUT OF THE WAY about the treatment of the mentally ill.
14. BLAKE OR THE HUTS OF AMERICA by Martin R. Delany was said to be his answer to the pacifism in UNCLE TOM'S CABIN.
15. Hawk's Nest by Hubert Skidmore is misuse of laborers and cover-up.
16. BOGEYWOMAN by Jaimy Gordon is about the institutalization of a young girl because she is a lesbian.
17. ALL THE BRAVE PROMISES is Mary Lee Settles memoir of her disillusionment and service in World War II. THE SCAPEGOAT is her novel re the treatment of immigrants in the mining camps.
Finally, some notes from
Janet Mackenzie
: "In terms of historical novels, no [book] is better, more persuasive, nor more beautifully written than Louis de Berniere's BIRDS WITHOUT WINGS, which details the idiocy of forced repatriation after WWI of Greeks who had been living in Turkey and Turks who had lived in Greece. Moreover, it creates at least fifty characters, twenty of them memorable, who depict the gentle love which exists in a town in Turkey which is half Christian and half Muslim. He exposes the barbarism of sharia law, the wisdom and kindness of the local imam, the nobility and treachery of several citizens.
"I recently reread ALL THE KING'S MEN and think it's a major work, not only in giving us an insight into the life of the coastal South of the time but also in studying the rise and fall of an essentially decent man. That power corrupts and absolute power corrupts absolutely as Burke observed, is borne out in this work. The more I read, hear and learn about politics the more I see the inherent corruption which surrounds it....The business of politics makes me chary. The caustic narrator in ALL THE KING'S MEN, who never did anything with his own life, does bother me. Learning the lie of one's father's paternity must have crippling force on a person, but the Greeks taught us that love is complicated and betrayal is not always premeditated.
"I liked THE HELP and thought the way Stockett told the story was very effective. It recalled the fifties, with its preoccupation with what people thought perfectly. The deeply embedded racism which could engender the idea of separate toilets struck a responsive note. I remember my shock, traveling to Baltimore, and seeing 'Whites Only' signs at the water fountain of the drive-in movie. Even in the sixties when civil rights movements began to gather strength, people were sure they were Communist inspired.
"I haven't ever read Sherman Alexie, and it's been so many years for Richard Wright, (in college), fifty odd years ago, that I can't comment in any detail. I do remember reading BLACK BOY and being shocked by the killing of the rat with a frying pan and the story of driving as a chauffeur in (Chicago)?... the book struck so many chords when I read it.
"I've just finished THE THOUSAND AUTUMNS OF JACOB DEZOET, which details the life in the Dutch East India company in Nagasaki in the late 1700's. The reader learns of plots and scheme in business as well as medical practices of the time. The author points out the disparity between the avowed belief in the Dutch Reformed branch of Christianity, with decidedly unchristian behavior among the Dutch businessmen, just as Melville points out the huge disparity between the Quaker religion of the ship's owner of the Pequot and his willingness to pay a decent wage to the men who worked and risked their lives aboard her. In fact, MOBY DICK is one of the great historical novels, with so many philosophical questions about the nature of man and of making a living. After numerous descriptions of the types of whales and the behavior of them and of men, he gives us a brutal picture of the act of killing whales. That men were god-fearing was one thing, that they despoiled nature to make a living is another. Melville is very clear about showing that Queequeg is more manly and civilized than Ishmael, as he offers the hospitality of his room, shares his fortune with a virtual unknown, and suffers fools with restraint when he could easily kill them. That he dives overboard to save a man who has ridiculed him says it all. I love the way he uses passages from
Lear, Hamlet
and
Macbeth
to inspire the stream of consciousness of Ahab."
Thanks to one and all for these suggestions and comments.
As always, I welcome more reviews, comments, suggestions on all kinds of books.
WANCHEE WANG REVIEWS father's day BY BUZZ BISSINGER
In
father's day
, bestselling author Buzz Bissinger embarks on a road trip with his adult savant son. Zach was born 13 weeks premature and three minutes after his twin brother. Because of those three minutes, his brain was deprived of oxygen, rendering him borderline mentally disabled (his twin suffered developmental delays but is now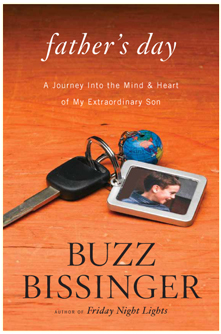 a school teacher and leads an independent life). He undertakes this trip in an effort to understand his son, to "crack through the surface into his soul."
He writes with brutal candor about his efforts to come to terms with his son's condition: "Why sugarcoat it? My son is mentally retarded. Because of three fucking minutes." One wonders whether it is Bissinger's very drive for success that made it that much more difficult for him to accept his son's disabilities. He is the bestselling author of
Friday Night Lights,
which sold two million copies and was made into a film and an acclaimed TV series; he has won a Pulitzer Prize
.
Having grown up in a high-achieving family (his maternal grandfather founded Lebenthal & Co., a municipal bond firm) and summered on Nantucket with other successful families, his "…whole life pivoted on success."
Written with unflinching honesty, the book does not always show Bissinger in a favorable light. He is impatient, easily angered, and curiously lacking in self-control. It is his self-awareness that saves him from being totally unsympathetic: when planning their trip, he wonders whether this plan is "…a selfish one, a classic example of a father forcing his imprint on his son and creating an experience that only becomes memorable because both parties spend a lifetime unsuccessfully trying to forget it." In the end, he does recognize the limits of a life based on the dogged pursuit of success: "We normally associate success with intellect and riches and status…Up until this trip, that was my own definition." It is a revealing read into the heart and mind of a parent of a child with disabilities.
THE E-READER REPORT WITH JOHN BIRCH: HOW NOT TO LOSE YOUR E-READER
My wife and I recently lost two Kindles, first mine, and then hers. I left mine in the gym, where some kind soul handed it in to the desk. After that I glued polite little "please return" messages inside the covers of both machines with our names, phone number and e-mail address. It worked. A week or two later, my wife left hers on a Greyhound bus, on our way home to Manhattan after a visit to Ithaca. It wasn't long before we had a call from a kind hearted young lady in Philadelphia, who'd nearly sat on it. Here's another word to the unwary. A friend of ours, Frank, deleted his Nook's password because he grew tired of typing it in all the time. Big mistake! He left it in the airport lounge in Istanbul. He hadn't put his name and address in it, either, so the finder's probably enjoying all those books Frank was looking forward to reading.
See John's blog-- it contains about two dozen of his short stories and articles-- www.JohnBirchLive.blogspot.com .
THEATER IN THE BERKSHIRES OF MASSACHUSETTS
I don't write a lot about theater in this newsletter, but this is my favorite company and my favorite actor. We have been going to see Shakespeare productions at
Shakespeare & Company
in Western Massachusetts for more than thirty years, and my son can remember a performance of
Midsummer Night's Dream
he saw when he was maybe three years old (out-of-doors on the grounds of the Edith Wharton mansion). He still quotes Jonathan Croy as Bottom showing how he can act, falling on the floor shouting, "I die! I die!" And he still loves Shakespeare, thanks to the humor and the speeches spoken so trippingly on the tongue by that excellent company.
My favorite actor in recent years has been one of the Shakespeare & Company stalwarts, the splendid
John Douglas Thompson
who was a terrific Edmund who pretty much stole the
King Lear
he was in, and a much-praised
Othello. T
wo years ago, he did
Richard III
with enough sex appeal that you actually believed the wives of people he killed might consider marrying him.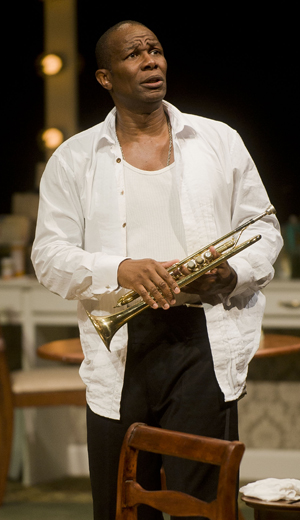 This year, he is performing in a contemporary play,
Satchmo at the Waldorf
by theater critic and biographer
Terry Teachout
. Thompson does Louis Armstrong, but also Armstrong's agent Joe Glaser, plus a little bit of Miles Davis (standing stiff, in a spotlight, accusing Armstrong of being an Uncle Tom). With all these changes, and a full ninety minutes or more alone on stage, this production is a real showcase for John Douglas Thompson. One person shows have never been my favorite-- what I love most about theater is the multi-voicedness of it, the many things happening at once. Thus I've always liked a crowded stage with lots of battles and supernumeraries and extra fairies and witches. In theater, unlike the movies, you are experiencing something that can never happen again quite like this. There is a near-religious calling down of powers in good theater that is not the same as the dream-like movie or my own art form, the novel, with its world that depends on the reader's ability to imagine. Sure, you have to suspend some disbelief in theater, but you are really, really there. Something real is happening.
And John Douglas Thompson is what is happening here as he channels two terrific characters. It is a fully
peopled
play, with different voices speaking to one another, indirectly but powerfully. He is forehead-wrinkled and Southern with a slight dipping limp when he is the aging Armstrong. For the Miles Davis vignettes, his forehead seems to broaden. But maybe the most astounding turn was when he became the guilty, worldly, foul-mouthed Joe Glaser, pacing the front of the stage, trying to explain and justify his relationship to Armstrong.
Complaints? I don't know, do I have to make any? I had trouble hearing some of the softer parts, especially Miles Davis, but this is probably my faulty hearing: a shame though, because I didn't want to miss a word.
IF YOU'RE IN YELLOW SPRINGS....
If you're in the Yellow Springs, Ohio, area, consider Ed Davis's informal facilitated writing group in his Yellow Springs home. This is for writers interested in doing deep revision on works of fiction, creative nonfiction and memoir. The focus will be on producing good drafts, rather than finished products, and learning the difference between major reconstruction versus mere proofreading. The workshop will be small—between six and eight—and will meet every other Wednesday for two hours, 7-9:00 p.m. Sessions will run from September 12 until November 21, a total of 6 for $75. (Meeting dates are 9/12, 9/26, 10/10, 10/24, 11/7 and 11/21). If interested, send a brief statement to Ed's e-mail (
edavis903@sbcglobal.net
) explaining why you'd like to be in a workshop that stresses process over product. He'll then give further instructions.
A SPECIAL DISCUSSION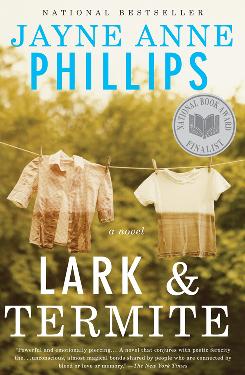 Some readers and writers I know have an online book discussion group. Linked here is their shared conversation about Jayne Anne Phillips's LARK AND TERMITE.
CLICK HERE
to read the discussion – names changed to provide privacy!
TO READ ONLINE

Here is an excellent story by Sondra Spatt Olsen published online for the first time: "The Sigh of the Hard-Pressed Creature" at http://www.reduxlitjournal.com/2012/07/44-sigh-of-hard-pressed-creature-by.html . This journal is putting neglected wonderful writing from small magazines online for contemporary readers.
Check out Dolly Withrow's essay "With Age Comes Knowledge to Share with Young" from the Charleston Daily Mail about teaching young people when you are no longer young– and also about how to use the grammatical passive voice! http://www.dailymail.com/foodandliving/myturn/201207220047
Children's artist and writer Peter Brown has a vimeo online about his newest project, CREEPY CARROTS -- for the kids and you too! http://vimeo.com/43773523
ANNOUNCEMENTS, NEWS, CONTESTS, WORKSHOPS, READINGS ETC.
Yorker Kageyama's manuscript THE OTHER LA BOHÈME has been named a semi-finalist in the 2012 William Faulkner Creative Writing Competition of the Pirates Alley Faulkner Society of New Orleans. See the list of semi-finalists at
http://www.wordsandmusic.org/2012%20Winners_Finalists.html
.
Yorker recommends the competition. The contest for 2013 will be announced shortly. He also recommends including notice of any awards of commendations of your work to agents who are considering your work. He had an agent ask for a full manuscript after he emailed her with news of his book being a semi-finalist in this contest!
Marie Manilla's new novel, SHRAPNEL, is out. There will be a Book Launch Party at Empire Books in Huntington, WV on Friday, Sept. 14th from 6:00pm – 9:00pm. Wine, noshes, and music provided. Everyone is welcome. SHRAPNEL is also available directly from the publisher at
sales@rivercitypublishing.com
, as well as Amazon.com. Learn more at
http:// www.mariemanilla.com
.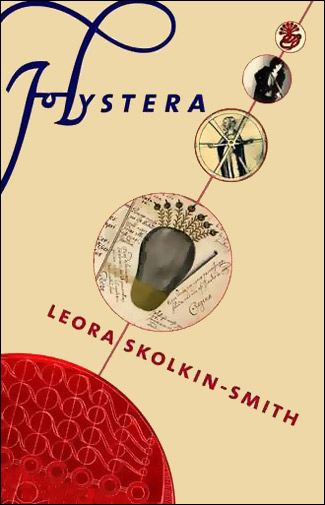 Leora Skolkin-Smith's novel HYSTERA has just won the 2012 Global E-book Award for multicultural literature! For more, see
http://globalebookawards.com/2012-global-ebook-awards-finalists/
Ardian Gill and others have photograph in the PAI Members' Photography Exhibit t Weill Cornell Medical Library, 1300 York Avenue at 68th Street in New York City. The exhibit is open July 23 - September 12. Reception Wednesday, September 12th, 5 to 7 PM .
Deborah Clearman and others will be at La Casa Azul Bookstore, Thursday, September 13, 6:00 pm, La Casa Azul Bookstore, 143 East 103rd Street, New York, NY to celebrate this vibrant new independent bookstore in El Barrio—grounded in Latino culture.
NAOMI REPLANSKY'S
COLLECTED POEMS
is forthcoming Summer 2012 from Black Sparrow Books (an imprint of David R. Godine Publisher; ISBN 978-1-57423-215-8). Available for pre-ordering.

"Nominated for the National Book Award in 1952, Naomi Replansky's first book
Ring Song
dazzled critics with its candor and freshness of language. Here at long last is the new and collected work of a lifetime by a writer hailed as "one of the most brilliant American poets" by George Oppen.
Replansky is a poet whose verse combines the compression of Emily Dickinson, the passion of Anna Akhmatova, and the music of W.H. Auden. These poems, which Marie Ponsot calls "sixty years of a free woman's song," are Replansky's hymns to the struggle for justice and equality and to the enduring beauty of life in our dangerous world."
THE SPINSTERLICIOUS LIFE: 20 LIFE LESSONS FOR LIVING HAPPILY SINGLE AND CHILD-FREE Authored by Ms Eleanore Wells .
MSW now has five books in e-book format from three different publishers, $1.99 and up.
The City Built of Starships
is at
Amazon
and
Nook
, and if you want to support indie publishing, you can also buy them at
Smashwords.com
. You can also find the Blair Morgan trilogy at all three places.
Out of the Mountains
is available as
Kindle
and
Nook
only.