Farewell, bare branches.
Now, the moment before green--
Look!-- touches of red!
We had a very nice Seder Monday night, even without Andy's family. The Graveses came, and Boe Meyerson and Betty Levin and Mary Sciaino! It has become fairly routine for me, the preparations, especially when we have eight or less people. There are matching napkins and plates, etc., and I don't have to clear out the dining room plants. In spite of all the shabbiness here at the manor, the chandelier in the dining room glitters, and there's Andy's mother's Acapulco pattern plates and her cobalt blue Mexican glasses (and of course it's her brisket recipe). But my own homegrown parsnips were in the vegetable roast, and my salad from the garden–the entire salad this time, as the lettuce has begun to make its rosettes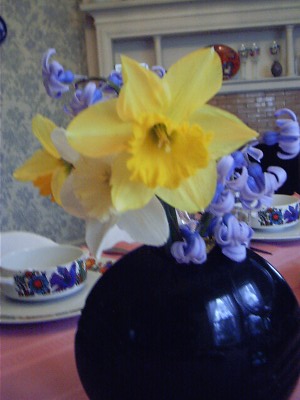 after shivering under the plastic for the winter. It is an endless delight to me to know that the mâche and the Winter Marvel lettuce and the radicchio and some bok choi and red giant mustard and a little kale have wintered over and are beginning to grow– even faster than the weeds around them!
Andy's Seders are always short, without the half after the Festive Meal. He emphasizes the fact that it's about ending slavery, and that he likes to know we're doing part of a world wide tradition: David and Ann have Jennie home, and they're at the Gellers; Joel and Sarah are at her aunt's house.
Our quirk is that we often have more gentiles than Jews: last night we actually had more Jews! Although Lorraine Graves, who is a Jewish-humanist, had to leave for a while to go over to Our Lady of Sorrows (Mary Sciaino's church) for choir practice, as she sings in the choir and last night was a big rehearsal for Sunday's Easter singing! It's all good.