Meredith Sue Willis's
Books for Readers # 152
May 9, 2012
It looks better online! Read it here.
My News:



There's a lovely review of my book of stories, Re-Visions, at
Women Writers, Women's Books written by Diane Simmons. Feel free to leave a comment!




In this Issue:












To create a link to this newsletter, use this permanent link .
For Back Issues, click here.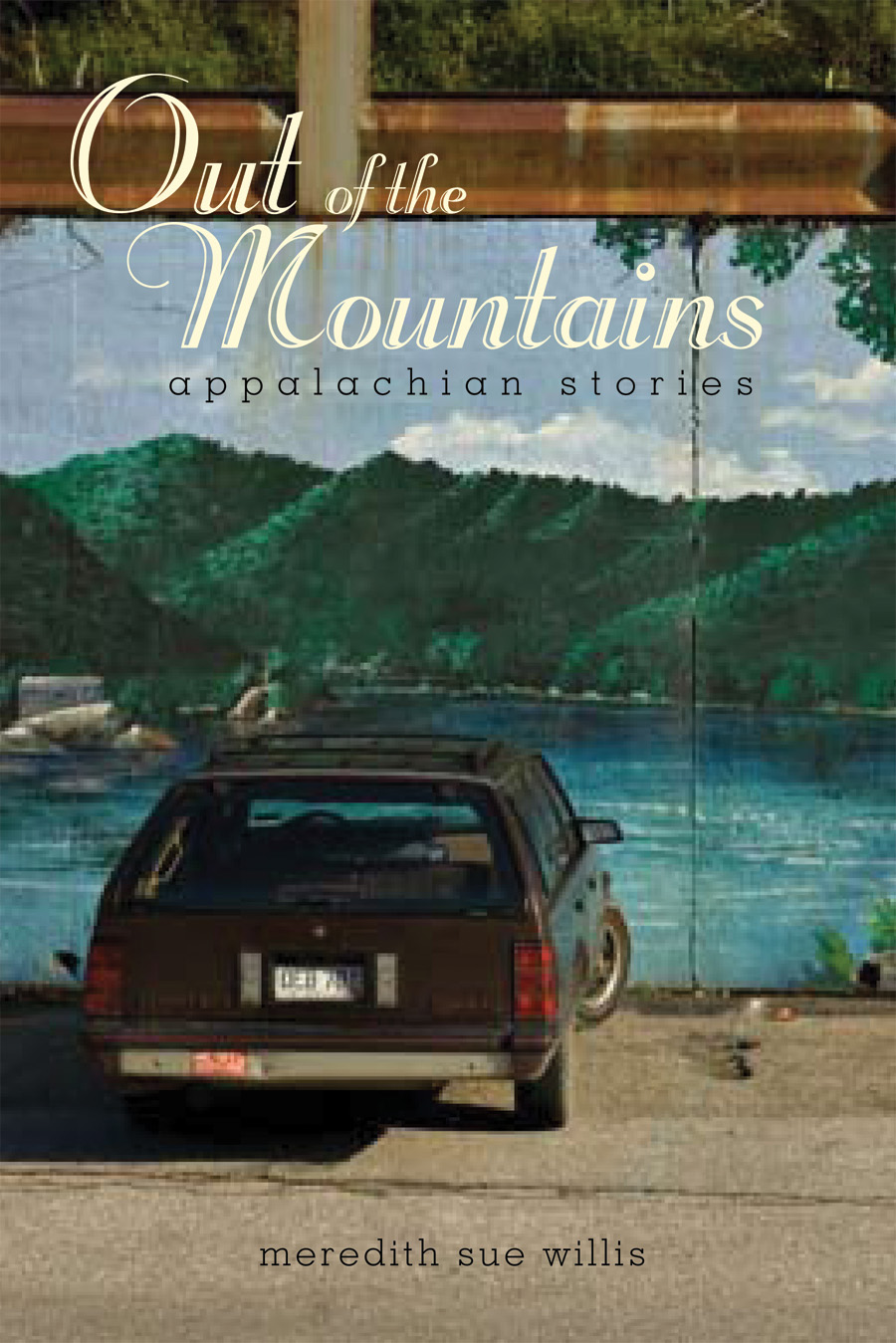 Guest Editor Marc Harshman on John Burroughs' Signs and Seasons (edited and with Critical Commentary by Jeff Walker, Syracuse University Press, 2006)
[Bracketed numbers refer to page numbers in the above text]
It may be that Audubon, Thoreau, and Muir come first to mind when we think of the great American naturalists of the 19th Century but we do so at a real loss if we do not also include John Burroughs. Although he didn't make the discoveries of Audubon, mount wilderness expeditions like Muir, nor ever attain the literary laurels of Thoreau, he had a clarity of vision and honesty regarding our place in the natural world that most anticipates the visionaries of our own era such as Wendell Berry, Bill McKibben, and Terry Tempest Williams. These contemporaries are always careful to note that stewardship of the land must begin at home. And if there is a common thread in Burrough's writing it is the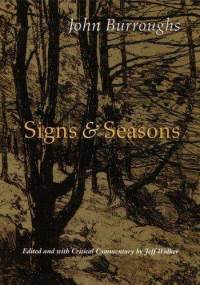 close observation of nature he finds at home and out his back door.
Jeff Walker has done us a great favor in re-introducing this collection of thirteen essays originally published in 1886, a collection that not only includes some of Burroughs' best but also well indicates the range of his many interests. These encompass pastoral reflections upon seasons in his native mid-Hudson valley (where Walker himself lives) to detailed observations of birds and their enemies to musings about the way in which a home might best "fit" the landscape.
Walker begins with a concise overview of Burrough's life followed by a more detailed introduction that places this work in the context of a prolific lifetime, as well as reflects upon the way in which Burroughs offers "both inspiration and encouragement" to those still concerned with preserving "harmony between our human and natural communities." Burroughs is often seen as the "father of the nature essay" and it is a special delight to read and relish the elegant prose of this largely self-educated author, albeit one who treasured literature. As Walker puts it: "…nature writing and literature" were inseparable with Burroughs. Or as Burroughs himself says: "Man can have but one interest in nature, namely, to see himself reflected or interpreted there, and we quickly neglect both poet and philosopher who fail to satisfy, in some measure, this feeling. [37] It is no surprise that Burroughs had close friendships with many of the greatest writers of his day and knew their work intimately. In an account of being seaside he eloquently quotes from Rosetti, Byron, and Whitman, Whitman who was, in fact, staying with Burroughs at the time and a valued friend.
Nearly every page possesses keenly observed and succinctly rendered accounts of a creature or plant or other natural phenomenon. Even those he's never seen he captures as if he had known them always -- the pileated woodpecker whose "blows should wake the echoes." [152] He muses that April is "that part of the season that never cloys upon the palate. It does not surfeit one with good things, but provokes and stimulates the curiosity. One is on the alert, there are hints and suggestions on every hand … May is sweet, but April is pungent. There is frost enough in it to make it sharp, and heat enough in it to make it quick." [176] He is a writer who can detect the smell of "tree buds." [183 ff.] or catalog an eagle on an ice floe with the unerring accuracy of a Stieglitz photograph. [209]
Unlike most of my generation the story of John Burroughs and his world as reflected in these pages is the story of a man who largely stayed put, happy to gain wisdom by continually asking questions of the world that came to meet him in the near at hand. It was a good path to wisdom then and remains so now. The words of John Burroughs remain a touchstone for anyone seeking a similar path.
TO READ ONLINE
David Evanier' story "Sentences" in
Per Contra
is about the lives of writers, hilarious and touching:
http://www.percontra.net/issues/23/fiction/sentences/
Guernica Magazine
has just published Jose Saramago's last stories (
http://www.guernicamag.com/fiction/saramago_3_15_12
). Leora Skolkin-Smith says it's " free on-line and it's spectacular."
Norman Julian and Jim Minick both recommend a recent interview with Wendell Berry. NATURE AS AN ALLY: AN INTERVIEW WITH WENDELL BERRY :
http://dissentmagazine.org/article/?article=4239
.
Sol Literary Magazine
has Carole Rosenthal's touching story about taking her father's ashes to a Mexican cemetery, "
Day of the Dead"
.
E-BOOK ORIGINAL: OF LITTLE FAITH BY CAROL HOENIG
I read Carol Hoenig's
Of Little Faith
, which is an original e-book. The story begins directly, almost plain in its story telling style. This works, though, as a way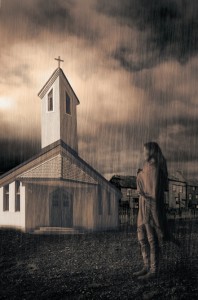 of giving the illusion we are simply hearing about some real people's lives. By the final third, when one of the main characters, Laura, is not only pregnant but seriously ill, you find yourself rooting for her, of course-- but also for her brother the conflicted minister and his wife, and even the awful fundamentalist sister.
There is a subplot in which a children's book writer has a wild success with TV gigs and a Macy's balloon, and a loving Englishman who makes a contract to have a have a baby with Laura, but falls in love with her too. The bad sister seems like the stereotype of a tightly laced hysterical fanatic, but when her hysteria expands to a breakdown, it turns out she has a good reason for her collapse.
One interesting aspect to the book is how it has a spiritual quality, but seems to push no particular dogma. It is serious and heartfelt, and highly readable.
--- MSW
COMMAS, THANKS TO NORMAN JULIAN
THE E-READER REPORT WITH JOHN BIRCH
DON'T BE FOOLED BY FREE E-BOOK SCAMS!
Look out, there's a growing number of websites offering free e-books. But be careful, because some will ask you for an "access fee" that can be more than $40. And once they've got your money they'll only introduce you to other sites that already offer free books!
Project Gutenberg
is a genuine site managed by volunteers. It offers 38,000 free books that you can upload to Kindle, Android, iPad and iPhone. Check out their Top 100 free classics that include a whole range of books ranging from those of Conan Doyle, Charles Dickens and Alexandre Dumas to Agatha Christie and G.K. Chesterton to P.G. Wodehouse.
Now you can read all those great books you promised yourself you'd read years ago. See
www. gutenberg.org
.
ANNOUNCEMENTS, NEWS, CONTESTS, WORKSHOPS, READINGS ETC.
If you're in Huntington, West Virginia this June-- check out the
Word & Song Café
atop the beautiful gazebo at 14th Street West during the
21st annual
Old Central City Days
. Sit back and enjoy a cup or two of tea and delicious pastries from Betty Schoew's
Manchester House Tea Catering
and listen to
The Harmonica Club
, award-winning writers, and performers,
Saturday and Sunday, June 16 and 17, 2012, from 1-3pm.
Writers include
Marie Manilla
,
John Van Kirk
,
Laura Treacy Bentley
,
Carter Taylor Seaton
, and many more.
For more information, go to
www.oldcentralcity.com
.
Jennifer Miller's new novel THE YEAR OF THE GADFLY officially hits stores May 8. Glamour calls it "Part Dead Poet's Society. Part Heathers. Entirely addictive." It's a fun, literary prep school novel, with a mystery driven forward by a high school journalist whose only friend is the ghost of Edward R. Murrow.
http://www.amazon.com/The-Year-Gadfly-Jennifer-Miller/dp/0547548591
See Jennifer in person:
May 8: Brooklyn, NY @ BookCourt, 7pm
May 9: Brookline, MA @ Brookline Booksmith, 7pm
May 10: Exeter, NH @ Water Street Books , 7pm
May 14: Washington, DC @ Politics and Prose, 7pm
May 19: Gaithersburg, MD @ Gaithersburg Book Festival, 2pm
June 11: Brooklyn @ Franklin Park Reading Series, Franklin Park, 7pm
June 12: New York City @ Le Poisson Rouge "Book Reports", 7pm
June 22: Chicago, IL @ The Book Cellar, with the amazing Jennifer Close
Sanctuary: A Reading of Poetry & Fiction
by Acclaimed Authors and Poets to benefit the IYYUN Center. Sunday, June 3rd at 7:30 PM, IYYUN Center 650 Sackett Street (between 3rd and 4th Avenue, Brooklyn) Light refreshments will be served. Suggested Donation: $18.
Authors and Poets include: Allan Appel, Beth Bosworth, Marc Kaminsky, Dennis Nurkse, and Mark Solomon.
All the presenters have been studying Torah with Rav Pinson for the past 7 years. They have come together to sponsor and offer this incredible and unique program, to benefit the IYYUN Center and its new building in Brooklyn. This is a rare opportunity to experience the poetry and fiction that you love, being presented by their highly acclaimed authors.
ONE STORY WORKSHOP This summer, One Story will again be offering our intimate 6-day fiction workshop for writers. The week will include morning workshops, afternoon craft lectures, and evening panels with authors, agents, MFA faculty, and editors. The workshop will be held July 22 - 27, 2012, in our office at The Old American Can Factory in Brooklyn, New York.
We are crafting a unique experience, both practical and creative, for writers looking to take the next step in their careers. Former Associate Editor Marie-Helene Bertino and Contributing Editor Will Allison will be returning as workshop leaders. Editor-in-Chief Hannah Tinti, as well as other established writers chosen for their ability to teach the craft of writing in engaging ways, will teach afternoon craft classes. Every night, there will be a wine and cheese reception and panel discussion with industry professionals. Last year's lecturers and panelists included Myla Goldberg, Darin Strauss, Jenny Offill, Simon Van Booy, editors from
Granta, Electric Literature, A Public Space, Gigantic
, literary agents, and MFA directors.
Please join us at the Old American Can Factory on Thursday, May 17th for a free craft lecture from Hannah Tinti on the art and skill of creating character. The event will begin with a reception at 6:30 PM. This is a rare chance to sample a craft lecture like the ones offered during the workshop, and an opportunity to meet some of the faces behind
One Story
.
Applications for the One Story Workshop for Writers are being accepted until May 31, 2012. To learn more, write
One Story
232 3rd St. #E106 Brooklyn, NY 11215 or click on
www.one-story.com
Jim Minnick's THE BLUEBERRY YEARS is just out in paperback. The book is a memoir about a pick-your-own, organic blueberry farm in Floyd County, Virginia. Last year, it won the SIBA Best Nonfiction Book of the Year award, and it has garnered kind words from many folks, including Naomi Wolf who calls it "delicious reading." For excerpts and photos, visit www.jim-minick.com.