Meredith Sue Willis's
Books for Readers #126
December 13 , 2009
For a free email subscription to Books for Readers,
send a blank email to Readerbooks-subscribe@topica.com
If you want to link to something in this newsletter, you should use the permanent link here rather than this page, which changes each issue.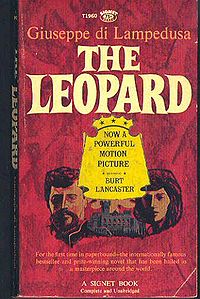 First, I want to mention THE LEOPARD by Giuseppe Di Lampedusa, which I'd been hearing about for a long time. The movie photo below is of Burt Lancaster and Claudia Cardinale in VIsconti's 1963 movie version. I had vaguely thought the book was about the British in Africa shooting big game, and instead it's a series of moments in the life of an aristocratic family in Sicily from the mid nineteenth century to the early twentieth. The main character is a physically imposing, intelligent, proud, cooly distant member of a deteriorating noble family with a leopard on its escutcheon. He's not exactly someone you'd want to know or be, and you can't feel sorry about the fall of his class very much– yet, at the same time,he is so smart, and his observations so abundant and rich, that in the end you mourn with him and ultimately for him.
It isn't all about him anyhow: there's a tight, pathetic story near the end where the late Leopard's unmarried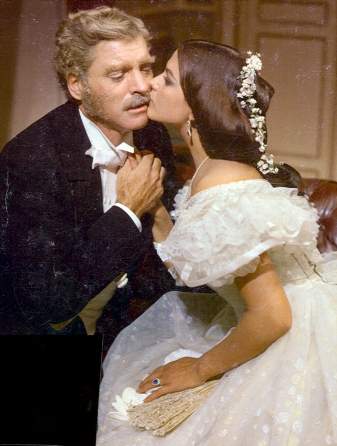 daughters suffer the particular humiliation of having their private relics of saints declared hoaxes, and another wonderful chapter where the household chaplain goes to his home village and deals with a pregnant niece and a family feud. Everything, whether tragic or humorous, is also sad and beautiful. I found myself thinking of the book with a sort of haptic sense of it, as if it were made of chunks you could hold, stroke, heft in your hands– with chapters you can walk in and around, hear the music and the whispers.
Around the same time I read Dani Shapiro's BLACK AND WHITE, one of the most satisfying contemporary novels I've read in a long time. The events and outcomes are at once expected and perfectly realized: we know the artist mother is dying, we know the daughter will take her daughter to see her, we know there is love along with the exploitation.
I also read John Updike's ROGER'S VERSION, which has Updike's typical relentless and brilliant detail of observation. In this novel, I just didn't like the main consciousness enough to enjoy his world. He is a divinity professor, and I do like his debates about religion, and I also like his wealth of information about the early church fathers and heretics. I don't think Updike likes these characters very much, although maybe I'm not separating Roger from Updike. I haven't read all of Updike's books, but in the books I have read, there is often more passion for ideas and words than for people. The sex scenes tend to feel yucky to me, like sticky pages in an old sex magazine. For other views of the book, look at a 1986 review of the novel in the New York Times by David Lodge and a review fromTime Magazine .
I also reread Linda Woodhead's CHRISTIANITY: A VERY SHORT INTRODUCTION (it is VERY short). My previous remarks on this little summary, which I highly recommend to anyone looking for a quick overview of the religion, are at http://www.meredithsuewillis.com/bfrarchive111-115.html#113#christianity.
Finally, at Carole Rosenthal's suggestion, I read with great pleasure the short and brilliant novel, THE RELUCTANT FUNDAMENTALIST by Mohsin Hamid. This has the immediacy of a short story, but the larger impact of a novel. The gentle, cultivated, courteous voice of Changez the narrator puts an insistent and increasing pressure on the person he is addressing, who is a character but also us readers. This receiver of the novel is an American whose role is first obscure and then closer and closer to something we think we understand. Changez tells him/us to have a cup of this, a bite of that, to stay just a little longer, to listen to one more story. I'm not absolutely sure what happens at the end– Changez brings this agent or whoever he is to be an easy target for–someone– but it isn't clear what will happen. Some bang bang, I expect, but we don't know who's going to live or die. Anyhow, it's as good a monologue as I've read– the reader feels so close to the narrator that we want to spend an evening with him too– but not stay so late!

JACK WILLS REVIEWS GHOSTS OF WALDEN: THREE CONCORD STORIES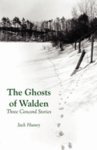 In his GHOSTS OF WALDEN: THREE CONCORD STORIES, Jack Hussey captures the essence of one of America's most famous towns during its cultural and historical apogee and tells some good stories while doing it. Having honed his skills through years of teaching American literature and producing a film on the lives of some of the region's most important authors, Neighbors in Eden, Hussey has re-created significant incidents in the lives of Concord's most famous citizens, weaving them into narratives with fictional characters into three well-crafted tales and an 18-page "prologue" of self-discovery, linked not only by character and place, but by the motif of the journey.
The prologue recounts an incident during the Battle of Concord, "the shot heard round the world," April 19, 1775. Two of the stories are set in pre-Civil War Concord, in 1844 and 1851, the last, which centers around a pageant to celebrate the town's storied history, in 1885. As befits the work's being set during the Industrial Revolution and the Civil War era, railroads–both the "iron horse" and the underground railroad–play an important role in the stories and reinforce the journey motif. The stories' most important character, author and naturalist Henry David Thoreau, who appears in body or in spirit in each of the three stories, is both amused and annoyed by the Fitchburg Railroad, the underground railroad is the road to freedom for runaway slave Shadrach Minkins, and, in the final story, Sarah Sanborn, sister of "Secret Six" member Frank Sanborn, sees the railroad as the way out of a Concord that has become too oppressive and confining for her. Others have their own journeys of activism or self-actualization, as Hussey not only gives us glimpses of the aspirations, personal lives, and foibles of Concordians like Thoreau, Emerson, Hawthorne, and Judge Keyes, but also provides some sense of the effect on their lives of the great social and cultural currents of the day: feminism, temperance, and Irish immigration, in addition to the issues of abolition and industrialization already cited.
Particularly well-executed and memorable is the fact-based journey of the young Thoreau, in the story "The Wilderness of This World," to Saddleback Mountain (the name later changed to Mt.Greylock) after accidentally burning a local farmer's woodlot. With "woods-burner" charges echoing in his ears, Thoreau has initially considered Saddleback a brief stop on his way west to begin a new life, but encounters with a mountain girl named Rachel Rice, two boys visiting their "fort," and a late, persistent black fly, a "buzzing messenger," combine to provide the epiphany which convinces him his true work is in Concord. The rigors of Thoreau's inner journey are graphically reinforced by Hussey's effective description of his arduous climb up Saddleback, whose slopes are "tangled in arbor vitae, mountain laurel and sumac"; Thoreau has to "pull himself up steep gullies by clutching branches and vines," which sometimes give way, leaving him "bruised and throbbing."
Among the more pleasing features of the book is the cast of supporting characters, some real, some imagined, which add color and texture to the narratives. In addition to those already cited, one recalls dapper, cigar-smoking Lewis Heyward, the former slave who transports Shadrach to the Bigelow house; drunken Irish immigrant Hugh Quoil and the wild, doomed woman he befriends; crusading Mary Cooke, hounding Emerson to give an anti-slavery speech; pathetic would-be poet Martha Hunt; and many others. Some of these characters, like Ellery Channing, who goes from irresponsible young Transcendentalist in the first story to dependent old curmudgeon in the third, or Johnny Riordan, who helps Thoreau get into the courthouse to throw the doors open for Emerson's speech in the first story and is a poetry-spouting patriarch seeking his lost son in the third, also serve to reinforce the sense of continuity in the stories.
An especially noteworthy feature of GHOSTS OF WALDEN is its deft modulation of tone. The reader is allowed to share the agony of Emerson, on his knees in Sleepy Hollow Cemetery, digging with his hands in the grave of his son Waldo, and the tenderness of Thoreau's hand on his shoulder, comforting and leading him back home; the desperation of Mary Cooke, hinting that pregnant Ann Bigelow do the unthinkable so that Cooke can move from abolition to temperance; the anguish of Shadrach, whose jubilation over his flight to safety is almost cancelled by the pain of having left the woman he loves behind. And the thoughts that Thoreau records in his diary after making his decision to return to Concord are genuinely poetic, as in this passage: "A Crowd of Concord children leap and cry, O! Mr. Thoreau! The smallest of them, Horace Hosmer, holds aloft, like a lantern, a golden pickerel glittering with the waters of Walden." One particular thread employed effectively throughout is that of humor. The emotional intensity of the first two stories, essentially narrated in a straightforward style, is relieved by occasional flashes of humor (Channing, for instance, is essentially a comic character), and the final story, suitably so considering the lightness of the occasion as compared to the first two, is a seriocomedy whose comic elements shade into farce during Judge Keyes's drunken efforts to extemporize after he has lost his written speech.
While the (largely) historically accurate approach Hussey has chosen necessarily limits his options as they concern plot, he has blended these historical facts and characters with well-conceived fictional creations into a seamless narrative of a fascinating time and place in American history. Ghosts of Walden convincingly evokes the celebrated past of a famous American town, but the voyages, both inner and outer, that its principal characters take are universal.
RESPONSES TO PAST NEWSLETTERS
Phyllis Wilson Moore writes: "Cat Pleska's review of Lee Maynard's latest novel captures the work so very well. Maynard has a voice and a style is all his own. After reading THE PALE LIGHT OF SUNSET, I thought of a comment by Arthur D. Casciato and James L. W. West III, editors of the reprint of (West Virginia author Tom Kromer's) WAITING FOR NOTHING AND OTHER WRITING (University of Georgia Press, 1986). "…the important thing about this book WAITING FOR NOTHING is not how closely it is based on the facts but how close it comes to the truth." (p. 263) The same holds true for the work of Lee Maynard."
MORE BOOKS RECOMMENDED
Jeffrey Sokolow writes to say, "I have just finished reading BOUND FOR CANAAN: THE UNDERGROUND RAILROAD AND THE WAR FOR THE SOUL OF AMERICA by Fergus M. Bordewich (New York, NY: Harper Collins; 2005), a well-written and inspirational narrative history of the largest interracial movement of civil disobedience in American history before modern times. Well-researched and vividly narrated, the book brings to life a host of heroes and heroines whose exploits will amaze and delight anyone who loves freedom. Though it reads like well-crafted fiction, the book contains an extensive bibliography and copious footnotes that point the way to scores of other works. Must reading."

Reamy Jansen read the new Byatt, THE CHILDREN'S BOOK. He says he thinks " it's just terrific--one of those works I couldn't wait to get back to. Since it takes place in London and its environs and covers from 1894 to 1917, it was like a journey through my dissertation, a good thing. I can't quite say it's a great book, which is something of an elusive category, but I'm tempted to re-read it to find out. Also recommended: Richard Flanagan's WANTING. An Australian Writer, Flanagan blends Van Dienam's Land (genocide followed by bantustans on a separate island) with Charles Dickens' and Wilkie Collins' production of THE FROZEN DEEP, which is about the disastrous Franklin expedition to the South Pole. Earlier, Franklin had been governor of Van Dienam's Land. Excellent novel."

JOANNE WETZEL ON THE NEW YORK WRITERS WORKSHOP PERFECT PITCH FICTION CONFERENCE
Joanne Wetzel reports on attending the New York Writer's Workshop's "Perfect Pitch Fiction Conference" 11/13/09 to 11/15/09. She writes: "The conference is for writers who have complete manuscripts and want to hone their pitch or synopsis to be used when communicating with agents or editors. Day 1 was spent reviewing our pitches in a small group of about ten people and teacher, and in Days 2 and 3 we pitched to 3 different editors. It also included an Agents Panel, where 4 different agents answered many questions, including how to find an agent, how the editor/agent/writer relationship works, what not to do, etc. Pros: at the end, you have a sharp one-page pitch to use in your query letters for agents. It's a GREAT networking opportunity to meet passionate teachers (Charles Salzberg and Tim Tomlinson led this conference), fellow writers, agents, and editors. In some cases, if the editors connect with a person's pitch they ask that the manuscript be sent to them. Cons- none, really. Since it's a 3 day conference, it is a substantial time commitment, but its well worth it if you need help taking a finished work to the next step. You're also not guaranteed to get the interest of an editor." Where to find more info: http://www.newyorkwritersworkshop.com/ . Four workshops are held each year, two fiction and two non-fiction The next "Perfect Pitch" conference is in February 2010.
GIFTS
If you're still looking for last minute holiday gifts, consider a subscription to TRADITIONS: A JOURNAL OF WEST VIRGINIA FOLK CULTURE AND EDUCATIONAL AWARENESS, Volume 11--2009. The journal continues to focus on cultural awareness and the roots of the various populations prominent in developing West Virginia. This issue is descriptive of the "Roads to Appalachia" followed by settlers from Europe, especially from Italy to West Virginia. TRADITIONS VOLUME 10 (about the West Virginia literary map) and the literary map itself are inexpensive gifts for writers, readers, teachers, and kids. To order copies contact wvfolklife@fairmontstate.edu or check with a local store or go to Fairmont State Folklife to view all the Center's publications.

Also, look at MSW's Gift Books page at http://www.meredithsuewillis.com/giftbooks.html.
UPCOMING READINGS IN NEW YORK AND NEW JERSEY
Sunday, December 20, Juanita Torrence-Thompson, editor and publisher of MOBIUS, THE POETRY MAGAZINE. Mobius, The Poetry Magazine Editor & Publisher, will produce, host and read at 3pm at the Lewis H. Latimer House Museum Poetry Salon Series. Other poets are: CHRISTOPHER STACKHOUSE, GEORGE NORTHRUP & ALISON ROH PARK. Light refreshments & conversation which spills out into the museum. Where: (historic) Lewis H. Latimer House Museum. 34-41 137th Street, (corner of Leavitt St) Flushing, NY. Executive Director is Vivian Warfield. –RSVP: latimerhouse@live.com or 718-961-8585 for directions, etc. Limited seating Limited parking at museum & on street. Subway #7 to Main St, Flushing; Take Q25 & Q24 to Linden Place & 35th Avenue, Flushing. (cream colored, burgundy trimmed, 19th Century Victorian House Museum)—ADMISSION: $10 adults, $7 seniors, students & children 12 & over.

Poetry Reading at Barnes & Noble in Clifton Commons (on Route 3 East in Clifton, NJ) on
January 7th, Thursday Evening at 7:30 by Therese Halscheid and me, Madeline Tiger
Contact person: Laura Boss.
"Four Poets Will Resonate with White Light" – @ The White Show – December 12, 2009
2:00 PM – Blue Mountain Gallery – 530 West 25th St., 4th floor(between 10th and 11th Avenues)
Nathan Whiting; Bob Heman; Edi Holley; Bill Pyles

ONLINE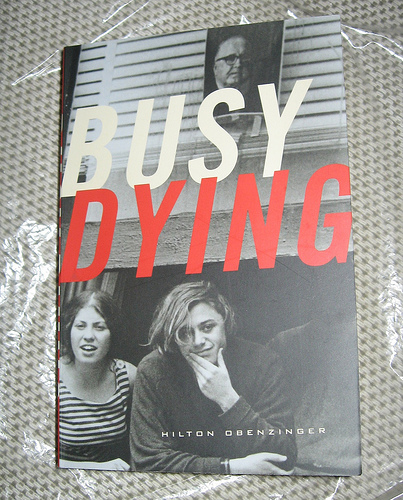 An interview with Hilton Obenzinger .
WHAT IS A MEMOIR?
I've been participating in some discussions about what defines a memoir, and these books have come up as recommended for refining our ideas of the definition of memoir: TELL ME TRUE: MEMOIR, HISTORY, AND WRITING A LIFE – by Patricia Hampl and Elaine Tyler May, and the INVENTING THE TRUTH, especially the intoduction by editor William Zinsser.

NEWS
Spuyten Duyvil Announces the pre-publication Sale of Lynda Schor's SEDUCTION, STORIES OF LOVE AND ART– "a new and rare collection of tales of extraordinary madness." Purchase a pre-publication copy and support Spuyten Duyvil's endeavors to bring extraordinary innovative literature and poetry to the reading public. Pre-publication copies are $16 + $2.50 postage and handling per copy. Please make checks out to: TNT Printworks and send order to TNT Printworks, 42 St. Johns Pl. Gdn Apt., Brooklyn, N.Y. 11217. Deadline: December 31, 2010 and Books should arrive by February 15, 2010.

Norman Julian's latest book is just out: TRILLIUM ACRES, a sequel to SNAKE HILL, the nonfiction companion to his award-winning novel CHEAT. For information, see Norman Julian's website at http://www.normanjulian.com.

Phyllis Moore reports that: Pinckney Benedict received a 2008 Pushcart Prize—his third—for a short story, "Mercy", published in the Ontario Review; Zoe Ferraris of Cabell County, a graduate of Marshall University, won the 2008 LA Times Book Award for First Fiction with her literary mystery, FINDING NOUF. see LA TIMES; Marie Manilla's debut novel, SHRAPNEL won the 2008 Fred Bonnie Award; Mark Brazaitis, associate professor and director of creating writing at WVU, received the ABZ Press Poetry Prize for his first book of poetry, THE OTHER LANGUAGE; Chuck Kinder received the 2008 Eberly College Alumni Recognition Award (WVU); June Langford Berkely received the 2009 Salem International University's Alumni of Achievement Award.; WVU faculty member Cari Carpenter received honorable mention in the 2008 Gloria E. Anzaldua's Book Prize competition for her book SEEING RED: ANGER, SENTIMENTALITY, AND AMERICAN INDIANS; Ethel Morgan Smith, also of WVU, received a competitive fellowship to attend a writing retreat at the Virginia Center for the Creative Arts to complete a memoir;and Ann Pancake's novel STRANGE AS THIS WEATHER HAS BEEN garnered award # 3 when it was named a finalist for the 2008 Orion Book Award. http://annpancake.blogspot.com/2007/04/biography.html.

Sierra Club Books has published COAL COUNTRY RISING UP AGAINST MOUNTAINTOP REMOVAL MINING. Several poems from COAL: A POETRY ANTHOLOGY, published by Blair Mountain Press, are in the volume, and Victor Depta's "Azrael on the Mountain" from his books of the same name, was printed at the center of Coal Country.