Meredith Sue Willis's
Books for Readers #125
November 9, 2009
For a free email subscription to Books for Readers,
send a blank email to Readerbooks-subscribe@topica.com
Special Contents of this Issue:

Review of Lee Maynard's new book By Guest Editor Cat Pleska
Books and more on John Brown
This issue is guest-edited by writer and West Virginia Public Radio commentator Cat Pleska who reviews Lee Maynard's newest book.. Full disclosure: I blurbed Lee Maynard's book for West Virginia University Press, with great enthusiasm!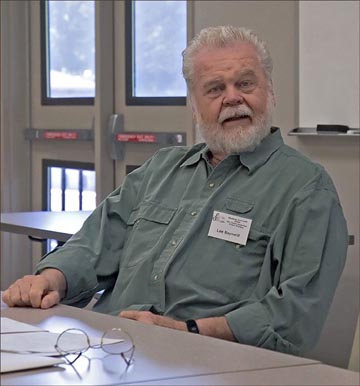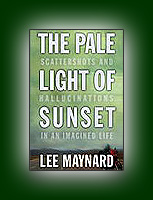 Lee Maynard and his new book
The Pale Light of Sunset: Scattershots and
Hallucinations in an Imagined Life
By Lee Maynard
(Morgantown, WV: West Virginia University Press, 2009)


Reviewed by Cat Pleska

Lee Maynard's third novel is based in the world he knows best—his own. Pale Light is Maynard's third book, following Crum and Screaming with the Cannibals. Crum and Cannibals are the first and second books in a trilogy, (the third, Scrummers, is a work in progress). Meredith Sue Willis alluded [in a book blurb] to the category under which this new book falls: fictionalized memoir. Maynard allows that it's a fair description, but he prefers to call it a novel.
A novel, regardless of how much fact is used, is a moldable thing: fold, staple, and mutilate—it's all fine. As Maynard stated to me recently in an interview: "The most important thing is the story." Still, when a book is classified as "fictionalized memoir" it causes an immediate question that's just human nature to wonder: What parts are real?" Maynard has said that his first book, Crum, is "about 50% truth." Pale Light, too, begins in Crum, West Virginia, so maybe the 50% formula holds for this one too. Maynard quotes his friend and author, Chuck Kinder: "All stories are true, if they are well written. The question is what they are telling the truth about."

Pale Light is set up chronologically and each chapter is titled with a year and a title, beginning with the protagonist's birth in "1936, The Parlor," and then each subsequent year of his life through 2005 (Maynard said that the publisher used perhaps 1/3 of the stories he had written). The protagonist is unnamed, but is referred to as Hit Man in one story. As we read the events that unfold, the overwhelming sense is one of longing, of searching for something, perhaps something buried deeply in the imagination—or the protagonist's hallucinations—and the realization of either longing or searching comes in between lucid imagery written like poetry. These scattershot interludes of peace amid the struggling ones seem as if Maynard is aiming to include all the elements in a life to achieve the larger picture. In this sense, Maynard weaves an amazing tapestry, creating a synergy that leaves you wondering: How'd he do that?

We all know people who were born with a heavy load to bear; maybe this leads them to wander, and things happen to them—over and over, mostly bad stuff, like poverty and violence. As a child, the protagonist is battered by life repeatedly even during the times he runs away. Surrounded by apathy and greed, his mother is an oasis of love that maybe is a saving grace. She tells him after he runs away the first time: "Real people don't run away from. That isn't the way to live your life. But real people can run away to, if there's something there that's better." He takes this message to heart. As he ages, he travels widely, never settling down in one place, struggling for food, safety, and survival, but that survival becomes a drive to challenge himself by climbing mountains, rafting wild rivers, riding a motorcycle from New Mexico to the Arctic Circle, and in a late chapter, he faces a scorpion in a way that will leave you cringing long afterward.

A bit of comic relief comes along in some chapters, such as "1977, The Funeral of Cousin Elijah," who passes away as every man should want to. And then there are the connections he makes with some people whose path he crosses, like Helen, who he first meets in 1967.
And in the middle of graft, smacking and punching, driving to something or away from something, he makes dead stops, like the dead calm in the eye of a hurricane, and notes the beauty of everything around him, such as in the chapter "Where I'm From, 2003":


. . . mountains that seem to form us and send us tearing along their sides and down and across the ridges to run staring-eyed out into the world like mythical beings charging out of the forests of Valhalla.. . . hollows, those dark, pungent, quiet places that instill in us a way of moving, a way of seeing, a way of being. Hollows capped with smoke and mist, bottling us up, aging us, keeping us still, our lives clear and silent, like mason jars of crystal moonshine gathering dust on a wooden shelf in a shed long forgotten on the back side of an abandoned ridge-top farm.


Even with a respite here and there, much happens to this protagonist: It is easy to keep turning the pages, which is testimony to a good story. Some places of violence I'm just downright uncomfortable (which I should be), but I mean I almost squint at the words. Read the chapter titled "1965, Faggot" and see if you don't squirm too.

But the reality always bears down upon the protagonist as he moves through his life. It's like watching the progression of a soul, like a monk in search of enlightenment through the tests that come with an arduous journey. Maynard gives a clue to this choice in a quote from Willa Cather: "The end is nothing. The road is all."

And along that road, we all need a little light, like the pale light of sunset, illuminating just enough for the reader to sense the scattershot magic that exists in every life—no matter the trials—if we permit ourselves to see it.



RESPONSES TO PAST NEWSLETTERS
Dreama Frisk writes: "Here is something from my journal written on the plane on the way to Russia: The first thing I read on the plane was Books for Readers #123. I loved MSW's comment about Joyce Carol Oates and Jodi Picoult and entitlement. Also, I found it helpful to read about their dipping into places they haven't bothered to imagine fully. It goes well with the Ella Fitzgerald I am listening to on the headset. MSW's judgment is so shrewd. In review of THE BOOK THIEF 'I wish we all could trust our stories to be enough in themselves.' (About death as a narrator.) I would like to find THE STORY OF AN AFRICAN FARM by Olive Schreiner."


SUGGESTED READING ABOUT JOHN BROWN FROM JEFFREY SOKOLOW
(See Jeffrey's notes on John Brown and the 150th anniversary of the raid on Harpers Ferry at http://www.meredithsuewillis.com/blogarchives2009.html#jeffreyonjohnbrown) . Now he offers some sources for learning more about John Brown.
JOHN BROWN, ABOLITIONIST: THE MAN WHO KILLED SLAVERY, SPARKED THE CIVIL WAR, AND SEEDED CIVIL RIGHTS by David S. Reynolds
PATRIOTIC TREASON: JOHN BROWN AND THE SOUL OF AMERICA by Evan Carton
JOHN BROWN by W. E. B. Du Bois
TO PURGE THIS LAND WITH BLOOD: A BIOGRAPHY OF JOHN BROWN by Stephen B. Oates
JOHN BROWN'S RAID ON HARPER'S FERRY: A BRIEF HISTORY WITH DOCUMENTS by Jonathan Earle
JOHN BROWN'S WAR AGAINST SLAVERY by Robert E. McGlone
AMERICAN EXPERIENCE: JOHN BROWN'S HOLY WAR (DVD)
"Also," writes Jeffrey, "when the inevitable 'isn't violence bad?' question is asked, I'd add my comment on contextualization: Historical events have to be viewed in context. Today [in the United States] we have a democratic republic with basic human rights taken for granted (not that our society is perfect; far from it). In 1859, the Supreme Court had ruled that 'a black man had no rights that a white man was bound to respect,' Congress had imposed a gag rule refusing to hear abolitionist petitions, and had passed a fugitive slave act that criminalized the underground railroad and gave agents of the Slave Power full rein to head north and kidnap African Americans living in the free states, and the executive branch was controlled by supporters of slavery. In my opinion, at that time and place, there was no alternative to war except continued acquiescence to slavery. Resistance to the Slave Power was as justified as armed resistance to the Nazis.
"That said, John Brown's justification of violence by appealing to a 'higher law' (that of God) cannot be used today to justify violent acts, whether undertaken by rightwingers shooting abortion doctors or by leftwingers blowing up animal labs. The historical context is totally different. What John Brown can serve for today is as a model for antiracist dedication to the cause of human equality, not a guide to tactics."
He adds a note on John Brown's daughter, Annie Brown: "Among other reasons Annie did not participate is that she was 15 years old at the time. Her pregnant sister-in-law Martha, Oliver Brown's new bride, was 17. They returned to North Elba, where Martha gave birth after learning of Oliver's death in the battle. The baby died a few weeks later and Martha followed in death shortly thereafter, saying 'Many women have given money for a cause but I have given everything.' Breaks your heart. What heroines they were."

MORE BOOKS RECOMMENDED
Reamy Jansen writes: "I'm finishing up Richard Flanagan's WANTING, an excellent novel where Sir John Franklin, Charles Dickens (a Manchester production of his and Wilkie Collins' THE FROZEN DEEP was performed), and exiled blacks in Van Dieman's Land converge. I also thought highly of Lorrie Moore's THE GATE AT THE STAIRS."

'RAY WEST VIRGINIA!!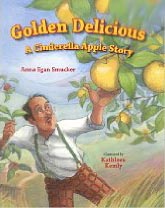 Phyllis Wilson Moore asks, "Does it get any better than this?"and then proceeds to list these recent West Virginia successes: Jeanette Walls (grew up in McDowell County): her HALF BROKE HORSES is number 9 on the current New York Times Best Seller list in hard cover fiction. Jayne Anne Phillips (grew up in Upshur County) has LARK AND TERMITE as a finalist for the National Book Award in fiction. BATTLE OF TRENCHMOUTH TAGGART by M. Glenn Taylor (grew up in Cabell County) is a Barnes & Noble Discover Great New Writers selection and finalist for the 2008 National Book Critics Circle Award in fiction. Lee Maynard (grew up in Wayne County)'s THE PALE LIGHT OF SUNSET: SCATTERSHOTS AND HALLUCINATIONS IN AN IMAGINED LIFE (see review above) is a finalist in New Mexico Book Award adventure fiction category. And Anna Egan Smucker (grew up in Hancock County)'s GOLDEN DELICIOUS: A CINDERELLA APPLE STORY represented the state's literary heritage at the 2009 National Book Festival.
TOP TEN GHOST WRITTEN BOOKS
Abebooks.com
sends out an occasional email, hoping to sell books of course, but interesting nonetheless. For Halloween it was Famous Ghost Writers or maybe famous books that were ghostwritten. Ghost writers include Katherine Anne Porter and Theodore Sturgeon among many others. See the
list
.
TOP FORTY MUSICAL NOVELS
NEWS

R.T. Smith's stories, THE CALABOOSE EPISTLES has just been published by Iris Press (see http://www.irisbooks.com/). Ann Pancake says of Smith's book that it is "Part bluegrass symphony, part speaking in tongues...the most beautiful sung story collection I have read in years." George Singleton calls is a collection that will "thrive and endure."
Barbara Crooker is interviewed by Russell Bitner on THE POET'S CORNER at http://www.alongstoryshort.net/poetscorner-BarbaraCrooker.html . There are three poems embedded, two from her new book due from C&R Press in April 2010..

WORKSHOP COMING UP
"Finishing Touches," a workshop with Thaddeus Rutkowski will begin on Monday evening, Nov. 23, 2009 at The Writer's Voice of the West Side YMCA. The class is designed to follow Rutkowski's "Generating Fiction," but there is no prerequisite. The workshop will focus on improving/polishing fiction. Creative nonfiction and experimental approaches will also be welcome. Open to everyone. Four meetings. Register online at www.ymcanyc.org or in person at the front registration desk at 5 West 63rd Street. For info, call Casey Slone at (212) 875-4124, or e-mail
cslone@ymcanyc.org
.
ONLINE
Cat Pleska's latest public radio program is online at http://www.wvpubcast.org/newsarticle.aspx?id=11933 . Click on the speaker or download mp3 to hear the essay.

PAPERBACK BOOK SWAP!
I'm still liking Paperback Swap Paper Back Swap
, a low cost (postage only) way to get rid of old books and get new ones!