Playing around with the camera--self-portrait: everyone else in my family is in California or West Virginia. And the Parakeet won't hold still.
March 15

I went to New York yesterday and started off at J&R down at City Hall after coming in at the World Trade Center site: that is still an amazing, experience, how the first light you see after the tunnels is this vast stone and concrete pit, looking more crowded than a year ago, cranes, workers, the big sewage drains or other pipes studding the exterior walls, and then up, several levels, lots more work going on, and then you're out on the street with Century 21 blaring out its wares and the church yard of St. Paul's chapel.
Then I went to J&R to hold in my hands and type on the Asus eee, which is as cute as a button, with the keyboard very tight, to the point I have trouble imagining anyone really using it with hands larger than mine, so I was a little clumsy. Linux rulz, of course, and the tiny screen was remarkably readable. Really nice for $300. I want one But not pink or blue.
Then to the subway City Hall Brooklyn Bridge station a whitish gray day, all the New York people looking pretty withdrawn, dark colors, hurrying, and I was actually relieved to see one big girl striding by with lip jewelry, wearing an odd flared plaid skirt over baggy jeans, short sleeved tee shirt to show off some kind of braces or splints on her arms, decorative, not medical.
Then up to the East Side, a different world with très expensive little boutiques for toddlers, the the museum, all the little carts outside selling photos and original art, or at least craft. Lots of school groups and inside the Greek and Roman galleries, students giggling over the naked people. I wandered past various old friends, the Chinese vases, Syrian sculptures, Lady X, lots of Sargeants and Picasso's monumental Gertrude Stein, Rosa Bonheur's Horse Fair, and finally, not absolutely enthusiastic, went to this season's Big Exhibit, the Courbet ,
Which I didn't get into right away: it begins with a lot of showy, melodramatic self portraits of the young man, but gradually, as the sheer volume and skill and breadth of his work became obvious, I got more and more interested: he is, after all, the visual expression of what Zola was doing. The sex room was pretty funny, and titillating, including a little dark cul-de-sac with genuine French Picture photographs and his famous crotch painting Origin of the World (which, I should have guessed, if you goggle Courbet, comes up first and often.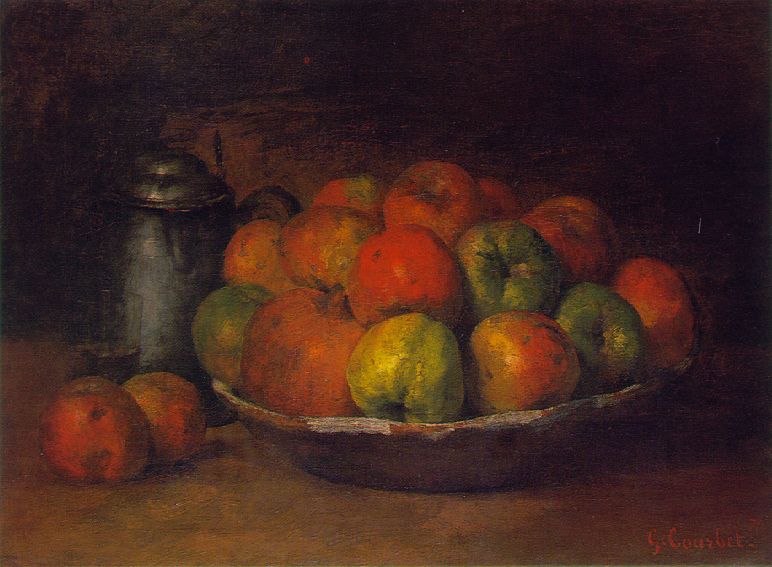 Then on to really wonderful landscapes and I particularly enjoyed his apples, painted along with a lot of trout when he was in prison for political activity in the 1870-71 Commune: spotted apples, more appealing to me that Cezanne's famous ones (that Joel famously critiqued at age 2 in Williamstown: "App-ul, Mommy! App-up!")
Also dogs, hunting, dying stags, especially winter scenes, just so much sheer splendor that I forgave him his self-dramatizations in his twenties. I'm sure he appreciates my forgiveness.
Anyhow, I had a nice lunch at the Petrie Court -- "organic" chicken and greens and some kind of special blue cheese and apple and a little bacon, also special and a dinner roll shaped like an upside down apostrophe. View of the park, eating on a stool overlooking all the people, white ladies of a certain age-- mine, lots of young couples too. I went back to Courbet again, looked a little more, bought the Phaidon book as cheapest and easiest to transport. I don't really particularly need the big museum book with his long semi-specialist articles on more aspects of Courbet than I want to learn about right now.
So I had a really nice day, got home in time to use my off-peak NJT ticket and to finish some work. Talked to Andy and Joel,everyone in California excited about how Andy went rock climbing with Joel. Joel and Sarah were cooking some kind of very California-sounding asparagus and morel pasta for him.