I made a quick run to MoMA yesterday. Incredibly crowded. Mercy. Long wait to get to coat check, crowds in all the galleries. Is it always like this? I started with the Gauguin exhibit on the top floor. I was impressed with G. when I was 20, but the romanticized, colorful, big sexy girls don't do so much for me now. I did get increasingly interested in his prints, though, as I walked through.
Late in life he developed an interesting technique in which he uses an oil ink all over a paper, pressed that on another paper, draws on top, and ends up with a two sided image, one side light and realistic, the other darker an threatening. Maybe the devil guy would have looked dangerous anyhow, but she looks dangerous too on this side: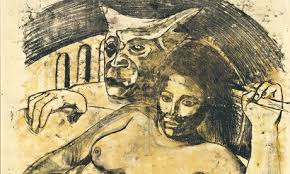 To my surprise, though, my favorite thing was a couple of rooms of Jasper Johns, never a fave of mine, doing something called
Regret
over and over again. It became increasingly interesting when it turned out it was based on a photo of Lucien Freud which Francis Bacon had folded and spattered as he did a painting. Part of it was torn, and that became the big dark form in the foreground of Johns' images:
They're big, in many stages, some with easily recognizable figures (the two halves form a mirror image), and this little thumbnail is only a reminder. It seemed to me to be a record of whatever, but about creativity in old age.