Meredith Sue Willis's
Books for Readers # 153
June 21, 2012
---




MSW News:

Check my e-books-- five books now, includingThe City Built of Starships at Amazon and now for Nook as well.






---

In this Issue:



Announcements and News:
New books by Hannah Brown and Reamy Jansen
Naomi Replansky's Collected Poems– and more!






To create a link to this newsletter, use this permanent link .
For Back Issues, click here.
---
I've just finished reading two books that have really stimulated my thinking about the meaning of community, and about the political work I've been involved in for a long time-- working locally for stable racial integration. One of the books I had been meaning to read for a long time: J. Anthony Lukas's prize winning (Pulitzer, National Book Award, AND the National Book Critics Circle Award) COMMON GROUND: A TURBULENT DECADE IN THE LIVES OF THREE AMERICAN FAMILIES. Written in the mid-eighties, it's about the grim headline-catching busing crisis in Boston a decade earlier. The second book is brand new: THE POCO FIELD: AN AMERICAN STORY OF PLACE by Talmage A. Stanley. This one is a multidisciplinary study of the effects of the coal industry on MacDowell County, West Virginia– about both the struggles of a single middle class family and about community and grass roots organizing in the region. The two books tell a lot about our nation and the power relations that rule our lives. I identified with the family in Boston that wanted to live in a diverse (but also beautiful and safe) urban community; I identified even more with the Appalachian family whose bread winner signed on as a store keeper for the Company– as did my own father's father.
The books have very different styles– Lukas's comes out of a journalist's world view and is written to be thorough, accurate, and popular. Stanley, a community activist and trainer of community activists, writes a book that is a mix of the academic (he is the director of the Appalachian Center for Community Service and chair of the Department of Public Policy ad Community Service at Emory & Henry College in southwest Virginia) and the personal, as he's using photographs and letters and history from his own family.
Stanley has a world view that is hardly rosy, but is hopeful and engaged, whereas the brilliant and much-lauded J. Anthony Lukas committed suicide in 1997. Lukas suffered from depression, of course-- you don't die of a jaundiced view of society-- but his personal despair and his stance as an observer of great public movements makes a sharp contrast to Tal Stanley's commitment to making change, not just reporting events. Lukas makes a point of seeing all sides of his issues. It is a nuanced and complex view, but in the end, what seems to stand out– and I don't doubt the accuracy– is the errors, the corruption, the failures, perhaps even the sheer
hubris
of hoping to make change in a city like Boston in the 1970's.
Common Ground
follows three families of different races and classes: black, Irish, and old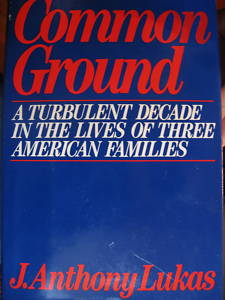 New England white, and also has chapters about public figures like Mayor Kevin White, anti-busing activist Louise Day Hicks, Federal Judge Arthur Garrity, and the Archbishop of Boston. The situation was this: Boston's schools were highly segregated by race; a federal judge gave the order to integrate; black kids were bussed to some tight knit white working class communities, and all Hell broke loose. The results were disastrous: beatings and lost months of schooling were the least of it. The major moved from vague idealism and a hope for higher office to hanging on by the fingernails to being mayor. The affluent Diver family in their lovely South End town house eventually were beaten down by crime and moved to suburban Newton (and, like a lot of people with affluence and education in their background, landed on their feet: Colin Diver just recently retired from the presidency of Reed College). The featured matriarchs of the white Irish McGoffs and the black Tymons both died in middle age, leaving children in various kinds of legal trouble.
Lukas's story is of how this imposed-from-above de-segregation imploded. It is vivid and searingly painful to read, and also disconcerting for an old Sixties demonstrator like me to read about how the often racist mothers of Charlestown organized rallies and street theater to stop the busing. Lukas finds a few very small incremental changes: teenager Lisa McGoff makes a couple of African-American friends, and maybe sees things just a hair differently, with a little broader perspective, after knowing them. .
It needs to be pointed out, however, that there was never a concerted good faith political effort at the highest levels to make integration of the Boston schools work: there was never any attempt, for example, to include the white municipalities of Brookline and Newton (suburbs, but both in very near proximity to Boston) along with Charlestown and South Boston in the integration plan. Very few white children were sent to schools in majority black Roxbury– schools that in general no one should have had to attend.
Lukas writes especially well of things like the highly principled but impractical Judge Garrity, and of the vigorous and community organizing of the Charlestown anti-busing mothers; and of a hopeful naiveté among many of the black people who simply seemed to believe that their children deserved excellent educations. A sad story, anyway you look at it.
Tal Stanley's THE POCO FIELD is not about a community tragedy: it is trying for something else, which is about the importance of community in people's lives. He begins with his own college experience when he felt cut off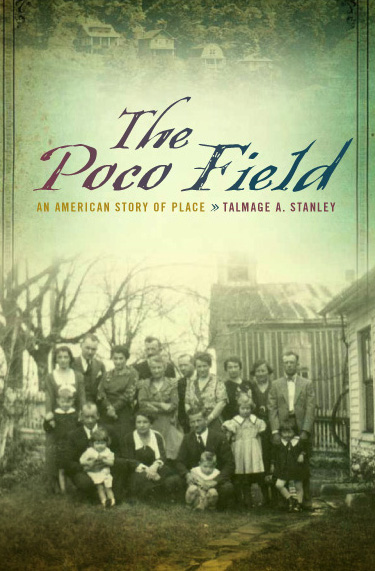 from the mainstream culture. This sense of being from a marginal culture silenced him for a long time, and he tells how he gradually found his own voice. Part of THE POCO FIELD is his personal effort to understand his own culture from a region of the United States that is often stereotyped and ignored. He uses family artifacts and oral history from own family as exhibits and examples of what he calls– new phrases to me– the "citizenship of place" and "the creative practice of place." At the broadest level, Stanley is writing the hopeful version of what Lukas despairs over in COMMON GROUND: the possibility of political change and community creation. Stanley sees the hope in work from the ground up, groups of people restructuring power relationships.
The time span of THE POCO FIELD is the roughly eighty years between the end of the First World War and the late nineteen-nineties, and the place is the great Pocahontas coal seam in southern West Virginia and southwestern Virginia. Stanley also writes about some earlier events: the passage of the native Americans out of the region and the entry of European subsistence farmers, the surveying of mineral resources and the economic excitement over extracting them. The detailed story begins with Stanley's grandfather, C.T. Apperson, young and ambitious, traveling by train to Keystone, West Virginia, in Macdowell County where he begins to work for the coal company store. He wants to move up into the industrial and corporate middle class– a move that my own grandfather was also making a dozen miles over the mountains. Apperson marries Stanley's grandmother, Aldah Williams, who is from a small, nonindustrial farming town. The first part of the book follows their efforts to become part of the American middle class, which was and is marked by mass produced consumer products, social striving, and an ideology of individualism that Stanley refers to by the shorthand term "Westfield," after a subdivision of the town of Keystone where the strivers build fancy homes and the women try to keep the coal dust off their possessions. A house in the suburbs west of downtown, now as then, is often a marker of success for Americans.
But the Appersons' American dream comes up slam-bang against the vicissitudes of the coal industry: the boom and bust cycle that made Southern West Virginia one of the most volatile spots in the country for the raw power of mineral extracting capitalism versus human needs. Apperson, seeing that people are losing jobs at the previously patriarchal and high minded company store, resigns and tries his own business and even moves out of the region altogether. His effort to become an entrepreneur fails, and he and his wife and child (the author's mother) move back to his wife's home place. He has a massive heart attack and dies young.
The second half of the book covers how the young widowed Aldah Apperson makes a satisfying life in her home community, centering her life on family and church and community. This is ambitiously intercut with life back in MacDowell County, West Virginia– which has become one of the most impoverished areas in the United States– where the residents struggle to create grass roots organizations to help each other, to do "place based work." They don't, of course call it that. Americans, especially Appalachians, don't naturally make scholarly generalizations, nor do they see their lives in terms of political economy as a Marxist would. But they do, as Stanley points out, see the value of working together, of helping each other, of creating community. Particularly he focuses on a changing cast of characters who form and sustain an organization called Big Creek People in Action. This becomes a group portrait of people heroically determined to stay in their mountains, to sustain relationships, to struggle against the colossal economic forces that have for a century decimated southern West Virginia.
Stanley moves back and forth between this and Aldah Apperson volunteering at her church and raising money for local charities: two kinds of community, suggesting that there is no single way to create citizenship of place. In Stanley's understanding, creative mutual endeavor is perhaps the most essential human activity– and one that is opposed and undermined by the raw profit taking of the great corporations but also the ideology of individualism. Otherwise admirable people like his grandfather, the store manager, essentially break their hearts striving to move on up as individuals.
As in much other literature, THE POCO FIELD is sometimes hijacked by colorful bad actors. In this case, there is a fascinating story of financial shenanigans in Keystone when a new bank president brings in a team that develops some wild speculations and scams that are like a flashforward to the 2008 banking debacle. These bankers essentially steal money while making themselves popular with a system of civic giving– until the bubble bursts.
There is also a fascinating section that deserves a book of its own about how the schools of MacDowell county were run to educate a very few and hold down the rest. Here is a connection some scholar needs to make in detail-- between the willfully undereducated rural population and the children in our worst urban schools.
Stanley's book is not a blueprint for change, but it makes a strong beginning at analyzing an aspect of American culture that is often undervalued or even vilified: grassroots community organizing. He also honors the quiet volunteerism of people like his grandmother. To connect the church lady with her charities and the loud mouth activist creatively starting trouble is perhaps the single most brilliant insight of this book.
MORE RECENT READING...
... includes Arnold Bennett's OLD WIVES TALE on the Kindle after reading about it in THE ART OF TIME IN FICTION by Joan Silber; also, after a suggestions in Silber's excellent little book, a reread (also on the Kindle) of TO THE LIGHTHOUSE by Virginia Woolf.
Some speedy light reading at home and away for the week-end: LITTLE CRIMINALS by Gene Kerrigan (Irish crime) and my first Michael Connelly, a noirish Los Angeles cop novel THE CLOSERS.
Back to the Kindle: RIDERS OF THE PURPLE SAGE by Zane Grey, my all-time childhood favorite, which I knew in the form of a comic! The the comic book version skipped the strong anti-Mormon tone of the novel– all cowboy, all fun!
Bennett, Zane Grey, Virginia Woolf-- all free for e-readers and other devices at the inimitable Project Gutenberg.
READ IT ONLINE
THE E-READER REPORT WITH JOHN BIRCH: E-READERS: THE NEW "BROWN PAPER BAG"?
I confess that, traveling daily on the New York subway, I often find myself peering over fellow travelers' shoulders to see what they're reading. That's a pretty harmless and anonymous invasion of their privacy, isn't it?
But maybe I should mend my ways. Tom Tivnan, an editor of the Brit magazine The Bookseller, says that sales of soft porn and romance e-book titles are suddenly rocketing there because, as one newspaper says, "there is far less risk of being caught … with such material."
"The e-reader is the new brown paper bag," Tivnan says.
Wondering whither this phenomenon is confined to the UK, I Googled "Erotic Books USA," and the sources seemed endless. I stopped counting at 50 entries.
See John's blog-- it contains about two dozen of his short stories and articles. The current post "A Taste of Sherri" is about a seduction... or is it? www.JohnBirchLive.blogspot.com .
PHYLLIS MOORE ON THE HATFIELDS AND MCCOYS
I didn't watch the History Channel/Kevin Costner version, but Phyllis Wilson more says it is for sale as a DVD. She also says, "It will provoke as much discussion as DANCING OUTLAW (The piece about a Jessco White and the fightin', feudin' Whites of Webster County, WV] but perhaps in a more benign way. I give it a thumbs up as, like CRUM, it captures the truth. Every book about the feud was checked out of Bridgeport Library yesterday. "
Phyllis goes ahead to suggest some serious nonfiction on the feud: "If you want to read what I consider the best nonfiction about the feud," writes Phyllis, "get THE TALE OF THE DEVIL: THE BIOGRAPHY OF DEVIL ANSE HATFIELD. It was written by Dr. Coleman C. Hatfield and based on his father, Coleman A.'s manuscripts and research. Coleman A. was the son of William Anderson "Cap" Hatfield (Cap was the most military and capable of Anse's sons).
"The mini-series should have mentioned that during the feud when 'Cap' and Jonse had to hide out for awhile, Cap changed his name and went to law school. He came back to try to do 'court' and contract details and the feud was still going on. If my family had as many professionals in it I'd take out outdoor advertising! In great handfuls, the Hatfields became senators, governors, doctors, lawyers, etc.
"One fun thing about the Hatfields, they loved to name their numerous children after ancestors and that is one reason they also used fun labels such as Devil Anse and Preacher Anse. They referred to the past ancestor they recalled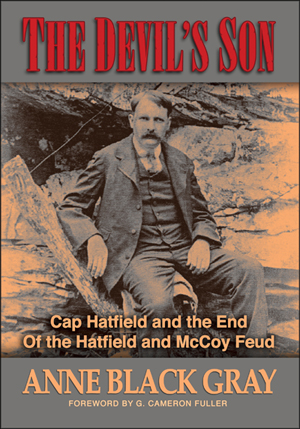 best as "Eph of All" as he was the father of (I think) 18 kids and every generation named one or more Eph. I think that is sweet."
For a good (and pretty accurate) fictional version if the feud, Phyllis recommends– and I agree!– a brand new novel about the feud, THE DEVIL'S SON by Anne Black Gray (
http://www.woodlandpress.com/
) . Black is herself a native of West Virginia and also a descendant of the Hatfield family. In her novel, I especially like the part where Cap goes to Law School in Tennessee, his culture schock, and his intelligence and willingness to work, and also the complex relationship between him and Pappy ("Devil Anse"). Women characters in the novel are secondary but sharply drawn, but the story telling really aces it.
ANNOUNCEMENTS, NEWS, CONTESTS, WORKSHOPS, READINGS ETC.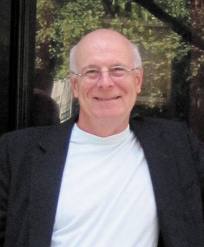 BIG NEWS! Last issue's guest editor, Marc Harshman, has just been appointed poet laureate of West Virginia. He replaces the late Irene McKinney.


Madeline Tiger is reading Thursday, July 9 at 6:00 P at the Cornelia Street Cafe, 29 Cornelia Street, NYC. Admission is $7 (includes a glass of wine). She'll be reading from From the Viewing Stand and from The Atheist's Prayer (Dos Madres Press). Also reading will be Rosaly Roffman.
Accepting short fiction & poetry, creative nonfiction, interviews, social justice concerns, spiritual insights for GINOSKO LITERARY JOURNAL. Editorial lead time 1-2 months; accept simultaneous submissions & reprints; length flexible, accept excerpts. Receives postal submissions & email—prefer email submissions as attachments in Microsoft Works Word Processor, Rich Text Format or Word. Copyright reverts to author. Read year-round. Publishing as semiannual ezine. Check downloadable issues on website for tone & style,
http://ginoskoliteraryjournal.com/
.
ON BARCELONA is "On the prowl for work--poems, prose, images, what have you." Send submissions to Halvard Johnson at halvard@gmail.com, but take a look at On Barcelona first at http://onbarcelona.blogspot.com/ .
Tayari Jones' book THE SILVER SPARROW is now out in paperback.

HANNAH BROWN has a new novel called IF I COULD TELL YOU about mothers raising children with autism. I'll be reviewing this in an upcoming issue, but it is based on her own experiences as the mother of two autistic sons. See www.hannahbrownbooks.com . Here's a link to Hannah's recent "Modern Love" column from the New York Times, and she also published a piece after Maurice Sendak's death called "Where the Wild Things Are .":
Coming soon: TWO WAYS OF NOT HEARING by REAMY JANSEN from Finishing Line Press . Look in "Bookstore" at "pre-order forthcoming titles." "Secrets we've never heard before," says Dan Masterson, and Kevin Prufer calls it a "terrific collection...intriguing, deeply intelligent."
NAOMI REPLANSKY'S
COLLECTED POEMS
is forthcoming Summer 2012 from Black Sparrow Books (an imprint of David R. Godine Publisher; ISBN 978-1-57423-215-8). Available for pre-ordering.

"Nominated for the National Book Award in 1952, Naomi Replansky's first book
Ring Song
dazzled critics with its candor and freshness of language. Here at long last is the new and collected work of a lifetime by a writer hailed as "one of the most brilliant American poets" by George Oppen.
Replansky is a poet whose verse combines the compression of Emily Dickinson, the passion of Anna Akhmatova, and the music of W.H. Auden. These poems, which Marie Ponsot calls "sixty years of a free woman's song," are Replansky's hymns to the struggle for justice and equality and to the enduring beauty of life in our dangerous world."