Meredith Sue Willis's
Books for Readers # 151
April 9, 2012
It looks better online! Read it here.

In this Issue:

It's National Poetry Month Again...
Free e-mail subscription to this newsletter.
To create a link to this newsletter, use this permanent link .
For Back Issues, click here.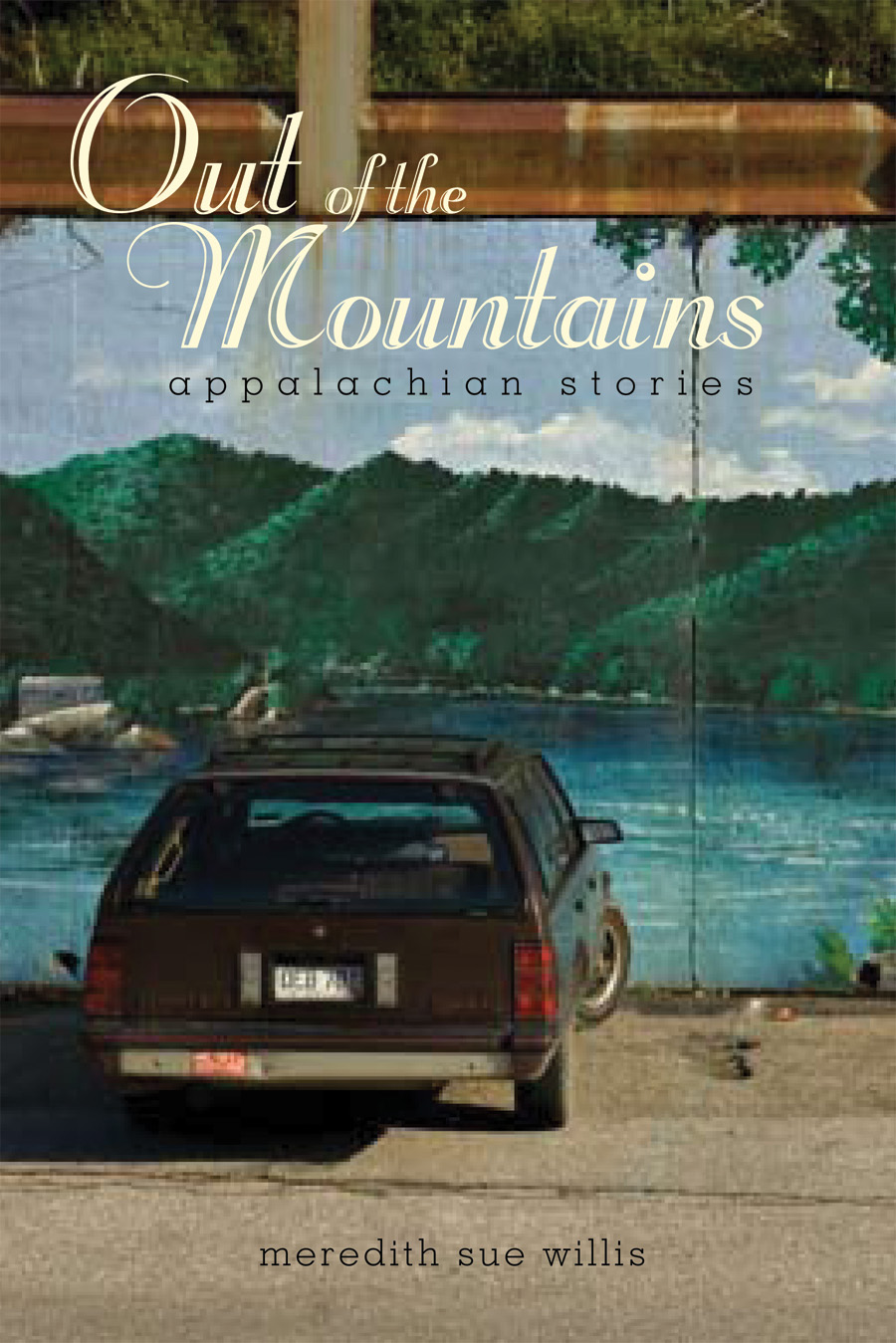 This month I'm beginning with two excellent books from small presses, Deborah Clearman's Todos Santos from Black Lawrence Press and Steve Schrader'sThreads from Hanging Loose. These books once again remind me that it is the small presses that are saving serious fiction. Yes, wonderful books are being published by the big commercial presses-- but not nearly as many wonderful books as are being written.
Todos Santos is the story of a lot of decent people fouling up badly. It is set in the Guatemalan highlands and is anchored by real events in history-- both the human rights abuses of the Guatemalan government supported by the U.S. during the administration of Ronald Reagan and a terrible lynching by indigenous people after the Civil War was over.
The Norteamericano mother and son at the heart of the novel, children's book writer/artist Catherine and her slacker son Isaac, come to Guatemala for renewal and second chances. Catherine is enraptured by the beautiful Mayan people and their culture and leaves her son in the care of her sister-in-law. Both Catherine and Isaac begin a series of errors in judgement and choice that cause complications including the death of a teenage expatiate, a maybe fake (and maybe not) kidnapping, and some sad collateral damage to a group of Japanese tourists. Some of these things the mother and son are responsible for; others they are simply the catalyst.
One interesting aspect of this novel is that even the appealing indigenous people-- in spite of the wisdom of their ancient culture, in spite of their native artistry and the beautiful highland scenery– are frightened and damaged enough to make their own cruel mistakes.
Using multiple points of view, and keeping the nation of Guatemala and its recent history firmly in focus, Clearman writes of dysfunctional families and of a culture where religion is divided among the old gods-- the Lords of the Mountains, Catholicism, and a particularly raw and punitive Pentecostal Protestantism of Ríos Montt, the brutal military dictator from the mid-nineteen-eights..
In the end, though, in spite of some horrible events, the main characters struggle to do the right thing, to find friendship and even love as they struggle to recover from the repercussions of their actions. Clearman manages all this with a compact storytelling style that builds from excellent suspense to a satisfying conclusion.
Steven Schrader's Threads: More Stories from a New York Life is a very different book, much closer to memoir than fiction in spite of being called "stories."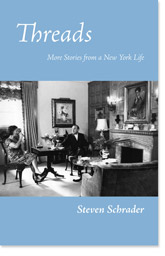 Employing a flexible, natural organization that alternates childhood and adult scenes, Schrader gradually lets the chronological past catch up to the narrative present, and the book ends with the death of the narrator's father, a towering, influential self-made titan of New York's garment district. The power and influence of the father over the narrator, his brother and especially over their poor isolated mother with her increasingly serious suicide attempts– is a rich source of psychological and social insight. The narrator's father is, in fact, is pretty much identical with the writer's father, who was the friend of politicians and union leaders, who gave large amounts of money to hospitals and Jewish charities, and who was a real emblem of the American century as embodied by the energetic immigrant.
The writer's own story is that of coming to manhood in the second half of the twentieth century and striving in a direction unappreciated by his father. Like his father, he is New York-centric, but he also makes forays into the deep South for Freedom Summer, and into the lives of very different people. His New York crosses cultural and racial lines. He goes to funky, poverty stricken parts of New York where he teaches and works with gangs. He seeks success by his own lights, in social service or political action or literature-- but is constantly prodded by the sense of how his father doesn't respect his choices.
What I've said so far, however, completely misses the main reason to read this book, which is the voice that walks us through this life. Schrader has a wonderful clean, dry and jaundiced humor that colors the most embarrassing and painful moments and also moments of compassion and love. Repeatedly and hilariously Schrader seems to be at once in the center of the world and yet somehow missing the main thing: he goes to a club in the Village for the early show and doesn't stay for the second show when young Bob Dylan gets up and jams with Ramblin' Jack Elliot. Malcolm X waves at the narrator, but he doesn't respond. His dad shows him a picture of a movie star-sexy woman and offers a double date, but our narrator turns him down.
I lived in New York for many years, and some of my experiences overlap Schrader's– I was at the Columbia University MFA program for a year with him, for example– but his world and my world, in spite of the same scenery and even some of the same people, seem to have been in different universes. And I have to say that the glimpse into his universe is a real pleasure.
Too infused with affection for stand up comedy, too brutally direct and stripped of decoration to be a Big American Novel a la Saul Bellow or Norman Mailer or some of the young pretenders making literary headlines now, what Schrader offers is pages where every word lights up, every sentence has a mission, every scene explodes with an epiphany. In spite of its brevity, it feels as large and rich as New York City.
A Few more Books, read on the Kindle
I borrowed from the library and generally enjoyed PILLARS OF EARTH by Ken Follett. It has fine energetic story telling and some solid research into the early middle ages, but, as the pages accumulated, the writing sometimes got --some characters not fully developed, for example. Oddly, my favorite character– the one I thought Follett managed best–was the murderous thug William who only gets sexual when he can hurt someone. Maybe because Follett doesn't admire William and has to make an effort to see his point of view, he ends up with a grudging affection for this hopelessly lost and brutal soul, who is afraid of going to hell, shrewd but not smart.
The monk Phillip is a fine character too. His practicality and asexuality become endearing, and he is totally believable as a Medieval man– as opposed to some of the other characters, who felt more like modern people in Robin Hood outfits. Really good story, though.

I have begun to look forward to reading a Saramago book occasionally the way I look forward to Victorian novel treats. This is not my favorite, but still wonderful: THE GOSPEL ACCORDING TO JESUS CHRIST. The first two thirds is especially strong, but starting with a too-long discussion among JC, God, and the devil, it began to feel like it was loading the dice against God, and the ending was weaker than the beginning.
But the beginning-- Joseph and Mary and Jesus as a little boy– right through Him falling in love with Mary M.-- all that was really interesting.
Finally, I also read the surprise Pulitzer Prize winner from tiny Bellevue Press, TINKERS by Paul Harding. This is a lovely and touching book written in a style that approaches poetry. There is a story line, which is the lives and deaths of a father and son, as they fumble internally after meaning. The characters' perceptions circle and swirl around, going wide and deep.
The book ends with a simple bit of narrative, everything tied up, in human connections. The really amazing thing is how all this mental exploration– the epileptic father's auras and his wanderings in northern New England woods– and the son's intricate knowledge of clock repair– how all this manages to be extremely concrete and readable. I felt uplifted by it in some odd way. It's not the way I write, but it is beautiful and moving and admirable.
See more about ti at http://www.tinkerspulitzer.com/
April is National Poetry month, so what better time to suggest that everyone read some poetry!
Juanita Torrence-Thompson's latest collection, Breath-Life from Scope Craft Press, includes a great range of poems from an exploration in compression called "Her Sweet Ear Flowered" to "Aida," a dramatic monologue about singing with Placido Domingo. I especially liked a little parable in verse called "African Absurdity" in which a magnificent African woman meets an honest boy, and "My Soul," in which Torrence-Thompson writes in the first stanza: "My soul, a rhapsody/plays melodies at each stanza/each insatiable syllable."
She experiments with many forms from the ghazal to prose poems. Torrence-Thompson's delight in language and imagery comes out, and pulls you in.
Juanita Torrence-Thompson is also the editor of MOBIUS: POETRY IS THE MUSIC OF THE SOUL. This twenty-ninth issue of the magazine has work by Rita Dove, Cornelius Eady, Daniela Gioseffi, Nikki Giovanni, Lyn Lifshin, John McKernan, Simon Perchik, Marge Piercy, Thaddeus Rutkowski, Sonia Sanchez, Jane Stuart, and many many more.
I especially enjoyed some of the winners of the Third Dr. Zylpha Mapp Robinson International Poetry Award, especially the first prize winner by Martha Kaplan with its straightforward and extremely moving monologue by Albert Parsons, one of the Haymarket martyrs: "I'll hand for the eight-hour day/I'll hang for the lies of the Chicago Tribune/for the wealth of Marshall Field...." Another wonderfully direct and moving poem is second prize winner, "Your Sister," by Lois Marie Harrod about a deteriorating relative in a hoarder's den. There are dozens of poems in this issue, all worth exploring.
Congratulations to the prize winners, but the good fortune is for all of us readers.
THE E-READER REPORT WITH JOHN BIRCH
BOOK PUBLISHERS GETTING TOUGH ON E-BOOK SALES TO LENDING LIBRARIES
Seems some publishing houses aren't as excited about the e-book revolution as the growing torrent of millions of e-reader owners. Several top-flight publishers, including Hachette, McMillan, Penguin and Simon and Schuster, have announced that they won't sell books to lending libraries, while Random House is reportedly planning to raise the price of e-books by a whopping 300%. Molly Raphael, president of the American Libraries Association recently said: "In a time of extreme financial restraint, a major price increase effectively curtails access for many libraries." The U.S. Department of Justice plans to begin an antitrust investigation of suspected price-fixing of e-books by four major publishers. Isn't it time the publishing industry got its act together?
See "John compares BRITS with YANKS," the latest post on John Birch's blog at www.JohnBirchLive.blogspot.com .


BORROWED REVIEWS
Sam Sacks on Miles Klee's IVYLAND in the WALL STREET JOURNAL: "At some point in the near future, the threat of a viral pandemic has led Americans to submit to a bizarre surgical procedure said to immunize them. But the procedure has grotesque side effects, and the corporation that provides it has become the country's de facto governing body....In jagged, non-chronological chapters, Mr. Klee follows a group of boys from a New Jersey suburb...Ivyland is a standout among a recent spate of dystopian novels."
Pamela Erens reviewed THE ROAD by Cormac McCarthy in GOOD READS:
In a review for The New Republic, James Wood suggested that much dystopian fiction is limited in imagination--the author changes one significant detail about our world and leaves much of the rest intact. By contrast, The Road fully imagines both the most microscopic and macroscopic consequences of a worldwide nuclear concussion. There are no trees left in this world, no birds or bugs or animals. An ashen dust moves constantly over what's left: sand, rocks, dead wood, dirty water, old houses, burnt-out cars, and the skeletons of other human enterprise. People eat only what remains in cans from abandoned pantries or bomb shelters. Unspoken is the fact that these sparse stores, frantically sought after by the few surviving humans, will eventually run out.

The story is the story of a man and his ten-year-old son, born soon after the disaster, making their way along roads to what is merely called "the coast." The father behaves as if "the coast" will bring some change of circumstance, some relief, some reason for hope, but there is no evidence that this is the case. The novel contains McCarthy's usual extraordinary attention to landscape and objects and the mechanics of human activity, his eccentric vocabulary, and his sly dark humor. What I'll be left with years from now, I expect, even more than the human tale, is the utterly persuasive landscape and atmosphere of a world about to wink out forever.
ANNOUNCEMENTS, NEWS, CONTESTS, WORKSHOPS, READINGS ETC.
Sol Literary Magazine has Carole Rosenthal's touching story about taking her father's ashes to a Mexican cemetery, " Day of the Dead" .
LATEST ISSUE OF MOBIUS: POETRY IS THE MUSIC OF THE SOUL The twenty ninth anniversary of Juanita Torrence-Thompson's MOBIUS has just been published with a wealth of poetry from Rita Dove, Daniela Gioseffi, Nikki Giovanni, Lyn Lifshin, John McKernan, Simon Perchik, Marge Piercy, Thaddeus Rutkowki, and many many others. The magazine's poetry contest is also underway, the 4TH Annual Dr. Zylpha Mapp Robinson International Poetry Award thru June 1, 2012. Get guidelines at More guidelines online at www.mobiuspoetry.com .
Juanita Torrence-Thompson's latest collection of poems is called breath-life.
PERSIMMON TREE has a new issue at http://www.persimmontree.org. They are also soliciting submissions for SHORT TAKES on the topic of "Milestones," and poems for the INTERNATIONAL POETRY CONTEST. You can find information about these two contests at http://persimmontree.org/submissions.php.

Alice Cody has an essay about how the experience of miscarriage changed her as a mother that will be included in a collection called THIS I BELIEVE: ON MOTHERHOOD, released by John Wiley and Sons will be available in bookstores and online at Amazon at http://www.amazon.com/This-I-Believe-On-Motherhood/dp/111807453X
Diane Lockward has a new chapbook out. Previously published as part of the Greatest Hits series, the collection is now available as an ebook and can be downloaded onto any e-reader device. The collection consists of 12 poems, the ones most often requested, and an essay tracing the history of the poems. TWELVE FOR THE RECORD can be purchased for $3 at Amazon. No e-reader? Amazon has applications that you can download for free. Then you can read right on your computer, tablet, Blackberry, iPhone or Android.. Learn more at www.dianelockward.com
Linda Elovitz Marshall 's second picture book, GRANDMA ROSE'S MAGIC (KarBen, 2012) has just come out. It's about a kindly grandmother - a seamstress - who sews for family and friends, always doing something extra nice when she sews....and always saving when she is paid. Here's the review in Kirkus Review: https://www.kirkusreviews.com/book-reviews/linda-elovitz-marshall/grandma-roses-magic/#review and the Facebook Page: http://www.facebook.com/pages/Grandma-Roses-Magic/145110905602994
Redjeb Jordania's book of memoirs ALL MY GEORGIAS is now available! "ALL MY GEORGIAS is a book of memoirs structured as a compilation of real life stories that paint a vivid picture of the author's lifelong journey through the hectic 20th century. Redjeb Jordania is the son of the first president of Georgia, Noé Jordania, who along with his entire government, was forced to immigrate to France after the Soviet occupation of Georgia in 1921. Redjeb was born in Paris, where he grew up among the Georgian émigré colony. He later moved to the United States where he eventually settled in New York and East Hampton. His very first occasion to visit the country of his ancestors came about in 1990. That fall and the following year he had the privilege of witnessing some of the tumultuous events that led to Georgia's independence, the election of President Gamsakhurdia, and a few months later his ouster by an armed rebellion. These stories are told in a masterful manner, fascinating, sometimes comical, with historical and cultural insights as background, including: life in the Georgian émigré colony in Paris, a delirious music lesson under the bombs during WWII, living without citizenship, a New York encounter with the KGB, Georgia's road to independence, and much more. Anyone interested in how people adjust to history - or just a good story - will find this book hard to put down." – Sandro Kvitashvili. Rector, Tbilisi State University (Available as paperback or E-book from Amazon.com, Barnesandnoble.com, Googlebooks, Kindle, Nook, DriftwoodPress@aol.com, and other venues).
2012 Marsh Hawk Press Poetry Prize— Submission deadline: April 30, 2012. Submit a manuscript of 48-84 pages of original poetry in any style in English. The manuscript must not have been published previously in book form, although individual poems appearing in print or on the web are permitted. Entries may consist of individual poems, a book-length poem, or any combination of long or short poems. Collaborations are welcome. (Please note: Manuscripts longer than 84 pages may be considered, but please contact us before submitting.)
The Poco Field by Talmage A. Stanley. In this beautifully written meditation on identity and place, Stanley tells the story of his grandparents' middle-class aspirations from the 1920s to the 1940s in the once-booming Pocahontas coalfields of southern West Virginia. Part lyrical family memoir and part social study, The Poco Field: An American Story of Place addresses a long-standing gap in Appalachian and American studies, illustrating the lives and choices of the middle class in the mid-twentieth century and delving into questions of place-based identity. Stanley is the director of the Appalachian Center for Community Service and an associate professor and chair of the Department of Public Policy and Community Service at Emory & Henry College in southwest Virginia.