Meredith Sue Willis's
Books for Readers #136
November 7, 2010

For a free e-mail subscription to this newsletter, click here .
Note: To create a link to this newsletter, use the permanent link .
The Hamilton Stone Review # 22 Is Available Online
Featured This Issue:
Shelley Ettinger on Books for LGBT Young People
Anna Smucker on Agents and Keeping Books in Print
Joanne Greenberg's latest
I've read several excellent books lately– a powerful memoir, a family epic, and a family epic in stories– plus a nonfiction book that finally helps me begin to understand some of the issues involved in copyright and so-called intellectual property rights.
James Boyle's THE PUBLIC DOMAIN: ENCLOSING THE COMMONS OF THE MIND was recommended to me by David Weinberger (EVERYTHING IS MISCELLANEOUS; THE CLUETRAIN MANIFESTO), and once again David serves as an excellent digital age guru. Boyle asserts that copyright was never meant to be– at least in US constitutional law– about rewarding the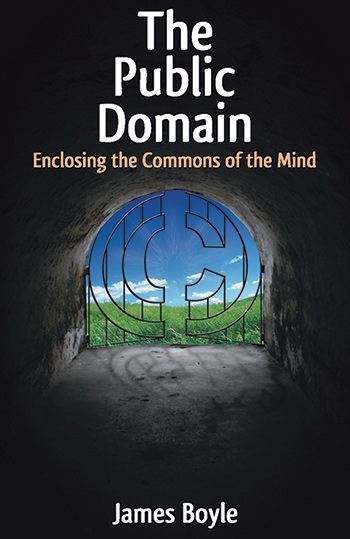 hardworking artist. Rather, he quotes Thomas Jefferson telling us that there should be as few copyright and patent protections as possible, just enough to encourage innovation for the good of the whole. Thus, copyright law is supposed to be about about community, not about property.
One of the essential points Boyle makes is how different physical property is from intellectual property: if I take your bracelet, you don't have it anymore, whereas if I use some pages of your writing, you still have them. You are not deprived of your ideas the way you would be deprived of your beloved charm bracelet. The case is made, of course, that someone is being deprived of the income from selling their writing, but there has always been the concept of fair use, which immediately puts creative work in a different category from bracelets as I don't have fair use of even one shiny charm from your bracelet just because I happen to want it.
There is also of course the possibility that if someone likes the two pages of the and then goes adn buys it. This actually happened with me and the Boyle book under discussion: I downloaded some of the free version (see below) and then decided I wanted a regular dead trees papber book. Again, very, very different from the bracelet.
There is also the argument that when we write or otherwise create, we are increasing the cultural wealth of everyone, and thus your book becomes mine even as I read it. In any case, copyright was never meant to be extended retrospectively (the famous repeated extensions of the length of copyright when Mickey Mouse comes up for public doman), not even for our entertainment and pharmaceutical corporations.
Boyle is emphatically not against copyright, however, but rather wants us to begin thinking of these issues in terms of what actually helps innovation and creativity. Apparently, in many cases, a certain amount of legal protection for creators and innovators is a good thing, but too many rules can stifle the very same innovation and creativity. Software code, for example, needs to be available to everyone to build on, and he makes the case that music has always been about mash-ups-- building on other music. He has lots of detailed legal case histories, lots to think about, learn from, and chew over– highly recommended.
And, by the way, if you want to read some of it for free-- or even all of it-- it is available by Creative Commons License here.
The memoir I read was A TALE OF LOVE AND DARKNESS by Amos Oz , recommended on this newsletter last issue. The book is extremely moving with its powerful story of the beautiful mother who killed herself, the scholarly father, the son who becomes the famous writer. The personal story would be strong enough alone, but it is embedded in an intimate look at the lives of Jews living in Jerusalem just before and during the 1948 war. But that's far too simple– it is also about the lives of people forced from their homes in central Europe, including many who didn't particularly want to come to Israel. The book excavated a new place in my understanding of specific suffering.
Technically, Oz does something wonderful with his mother's death, which he mentions often, circling around it, then at a certain point, skipping over it to write of his teen years on a kibbutz, so that the death is suddenly seen in retrospective. There was a moment when I thought, Is it possible he won't tell the actual suicide? But then, at the very end of the book, he finally narrates his mother's last months, weeks, finally days and hours. Part of the satisfaction of the book is that while this suicide clearly shaped everything in the writer's life, it is also by no means the only thing or perhaps even the main thing.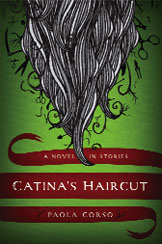 Speaking of family stories: Paola Corso's CATINA'S HAIRCUT is a collection of short stories that manages in just over a hundred pages to create a family epic, two countries, and several eras. It moves from Calabria, Italy at the very turn of the twentieth century to Pittsburgh in the industrial steel mill mid- twentieth century, and into the twenty first century as well. Destructive drought and deadly flood waters alternate as Corso's characters try to live in their old world and their new one. She's especially good at the play between tales and fables and a brilliantly solid, earthbound realism: a literary rendering of a family's story and its soul.
CATINA'S HAIRCUT is short, but Monique Raphel High's THE FOUR WINDS OF HEAVEN is very long and highly dramatic. This novel was the first book by my former literary agent and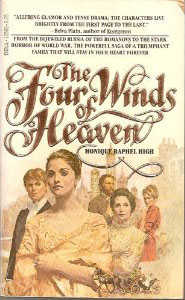 college classmate, and it is a highly professional and richly entertaining historical novel– lots of family, lots of love, lots of violence, lots of historical context, and a happy ending for at least some of the people we care about-- especially the woman who was Monique's own grandmother. There is drama and danger, but all based on real events in the lives of a group of rich Russian Jews who were newly minted barons and baronesses. Some of them, like the main character's father David, are admirable. He works tirelessly to save the poor Jews of Russia and to make change from within the tsarist government. Others are not admirable at all. But whatever their ethics and ideas, they become affianced to the wrong people, they suffer in marriage, they lose all their material goods in the aftermath of the First World War and the Russian revolution. This is a fast moving 682 mass market pages, alive and gripping all the way through.
It also makes you thankful to live in not-so-interesting times!

FROM SHELLEY ETTINGER'S BLOG: BOOKS FOR LGBT YOUTH
Writes Shelley: "First there's this list of Young Adult books that feature gay and lesbian characters of color courtesy of the blog THE HAPPY NAPPY BOOKSELLER Turns out I've read a couple of them--THE NECESSARY HUNGER by Nina Revoyr, all of whose books I've loved, and A MAP OF HOME by Randa Jarrar. One or two others I've heard of, the rest are new titles to add to my to-read list.
"Then there's the blog I'M HERE, I'M QUEER, WHAT THE HELL DO I READ? , whose whole purpose is to provide book information 'for teens (queer or not), for librarians, for teachers, for booksellers, for people with teens in their lives and for anyone interested in YA books with GLBTQ characters and themes.
"I also remembered a children's book that Teresa and I gave as a gift to a 2-year-old a few years ago. THE SISSY DUCKLING by actor and playwright Harvey Fierstein. This is a sweet, lovely book with a delicious story and wonderful message. I don't remember if the 2-year-old liked it much, but we sure did."
SHORT TAKE
Joanne Greenberg's MIRI WHO CHARMS is a novel that feels as real as a memoir. The heart of this story is a relationship between two girls who become women in the story. One of them is the type of person who draws the rest of us toward them, who "charm, " as Greenberg would have it. In my life, I have tended to keep a distance from them; but the narrator here, Rachel, is so deep in Miri's life that she seems to live for her and her daughter rather than for herself.
Miri is totally believable as a charmer, but she is also a monster of selflishness, and her precocious, hot house flower of a daughter has some of the same qualities. The story is largely about the narrator's struggle in this relationship, but also about the relationships of both women to the community they have rejected: the Orthodox Jews of Colorado. It's a lovely, worthwhile story– and you have to wonder: why isn't Greenberg's work being reviewed and read more widely?
A WORD ABOUT AGENTS AND STAYING IN PRINT FROM AUTHOR ANNA SMUCKER
Anna Smucker writes: "When you asked if I'd sold my books thru an agent and I said that I had sold them on my own, I probably should have added that I could paper several rooms of my house with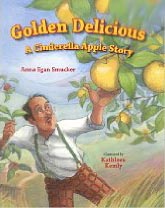 rejection letters. If nothing else, I'm stubbornly persistent. Also, in thinking of how my books are still in print, I really had to fight to keep three of the six in print, going as far as writing a personal plea to the publishing director at Knopf for NO STAR NIGHTS, and rounding up several key people to speak to the WV Humanities Council in support of keeping my WV history book in print.
"No doubt about it, keeping our books in print isn't easy, and that's after all the hard work of writing them, finding a publisher, and doing school visits, appearances, and writing workshops to try to pay the bills. The appearances, etc. are also necessary to keep our books in the public eye and thus also help to keep them in print!! Being a writer is definitely not a career for those who are easily discouraged. But with all that said, holding a newly published book (and our beloved old ones) in our hands, somehow makes it all more than worthwhile. "

And Now,For Something Completely Different...

Take a look at Theresa Basile's fictional blog "Confessions of a Superhero's Girlfriend" at http://lucywestfield.wordpress.com/2010/10/22/hello-world/.

West Virginia Encyclopedia is Now Online!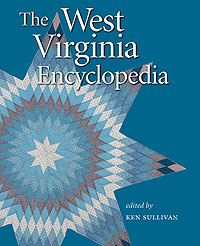 The WV Encyclopedia website shows the state's history, culture and people with pictures, videos and maps and other features about the history of West Virginia. Visit http://www.wvencyclopedia.org/
Announcements and News

Iris Schwartz's poem "My Dead Father Takes Your Dead Mother on a Blind Date" is available at OCTOBER BABIES online.


PENCIL MEMORY, a chapbook of poems by Llewellyn McKernan, will be published December 3, 2010. This is a limited edition collection, and the number of pre- publication sales will determine the size of the press run, so please reserve your copy now. Learn more at www.finishinglinepress.com . And here's a sample!
CAT PENCIL
You swallow a syllable,
hiss and howl, claws of meaning
pile up on the page, phrase
after phrase unravels its yarn,
a catwalk of sorts: on it
thought stalks, twitching
its long-haired tail, emotion creeps
knee-deep in catnip and cream,
and nouns with big paws
sit and dream of nine lives, glad
each dark end abides
in words, kneading
the paper.
Marina Budhos has a nice utube video introducing her young adult novel TELL US WE'RE HOME about three girls whose mothers are nannies. Her web site is http://www.marinabudhos.com/ .
FLIGHT OF THE SORCERESS by Barry S. Willdorf is now available from Wild Child Publishing. This book is the result of eight years of research, writing and editing. It represents an accurate portrayal of the Roman Empire in the Fifth Century A.D. with appearances by several notable personages of that period including Hypatia of Alexandria, Pelagius the heretic, Pope Innocent, Saint Augustine and the Roman Prefect, Orestes. Further information about this unique historical novel, set in the fifth century A.D., can be found at: www.agauchepress.com and at the publisher's website, www.wildchildpublishing.com.
Halvard Johnson's latest book of poetry is MAINLY BLACK from Vida Loca Books.

Just Out: THE BODHISATTVA'S EMBRACE: Dispatches from Engaged Buddhism's Front Lines by Alan Senauke. See website at http://www.clearviewproject.org/

Johnny Sundstrom's new novel DAWN'S EARLY LIGHT is set in the desolation that became known as southern Wyoming, when Martha Bradford, traveling on the Oregon Trail. is told she must discard either her cast-iron cook stove or her pianola. She has them both taken off the wagon and then refuses to go on any further. Her brother-in-law continues west with the wagon train. Her husband rides off in anger, leaving her stranded in this big emptiness with the freed slave who came with them from Missouri. Late in the day, when Carlton Bradford returns to his wife, he has found a place to try to settle. Thus begins this six-generation saga of the Bradford family, the first "Americans" to try to make a home in that part of the West. The novel addresses the cultural evolution of the "Old West" through these pioneering characters and their descendants as they struggle to survive bad weather, death, isolation, emergencies, and sometimes near-insanity, even as they enjoy the deep satisfaction of an honorable and remote way of life with all of its rewards and usual celebrations. For information, email the author at siwash@pioneer.net .
Jim Minick's THE BLUEBERRY YEARS is available from online vendors such as Better World Books, Amazon, Barnes & Noble, or Borders, or support your local bookseller. For a list of independent bookstores, visit www.indiebound.org. Upcoming Readings include
11/13/10 Malaprop's, Asheville, 2:00; 11/13/10 City Lights, Sylva, NC, 7:00 with Dana Wildsmith; 11/14/10 French Broad Institute, Marshall, NC, 4:00; 11/16/10 "Over the Top Blueberry Shindig" Roanoke Public Library, Roanoke, VA, 6:30 reading w/ Thorpe Moeckel; 12/13/10 Ram's Head Bookstore, Roanoke, 1-3, signing w/ Ralph Berrier.

Free between now and December 7th, Kal Wagenheim's serio-comic novel, THE SECRET LIFE OF WALTER MOTT in PDF format. Send an email to kalwagenheim@cs.com.
About Amazon.com
The largest unionized bookstore in America is Powells Books. An alternative way to reach their site and support the union is via http://www.powellsunion.com. Prices are the same but 10% of your purchase will go to support the union benefit fund. For a discussion about Amazon and organized labor and small presses, see the comments of Jonathan Greene and others in Issues #97 and #98 .

Where To Find Books Mentioned in This Newsletter
If a book discussed in this newsletter has no source mentioned, don't forget your public library and your local independent bookstore. To buy books online, I often go first to Bookfinder or Alibris. A lot of people whose political instincts I respect prefer the unionized bricks-and-mortar bookstore Powells (see "About Amazon.com" above) that sells online at http://powellsbooks.com. More good sources for used and out-of-print books are Advanced Book Exchange at http://www.abebooks.com and All Book Stores at http://www.allbookstores.com/ . Both Bookfinder and All Book Stores both have a special feature that tells you the book price WITH shipping and handling, so you can compare what you're really going to have to pay.
For more comparison shopping, you might want to take a look at CampusBooks.com , another free comparison shopping website for textbooks that says they search over two dozen bookstores to find the lowest prices in textbooks and more.
Other ways to get books: I have used and liked the paid lending library Booksfree.com and Paperback Book Swap at http://www.paperbackswap.com/index.php , a low cost (postage only) way to get rid of books and get new ones by trading with other readers.