August 4, 2009
We've been up here three days now, enjoying calm with no one here but me and Andy, Ellen coming today, David and Ann tomorrow. With Nathan? We went out Saturday night to see Norm and Nancy, Sunday was rainy, but I swam in the rain and we went to see Hurt Locker, the Iraq war movie, not bad, but nerve wracking.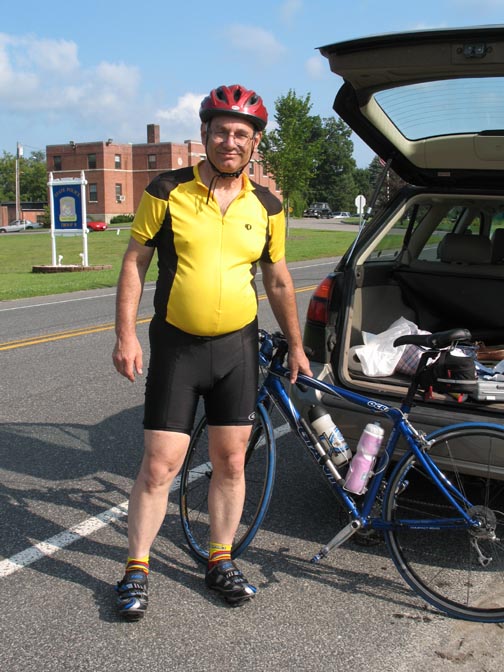 And on Monday Andy did the Connecticut to Vermont bike ride! Almost seventy miles, and he did it in four and a half riding hours, although it was longer in real time. The first picture is him in Canaan, CT, at the start, and the second he took himself just after he'd gone over the Vermont line.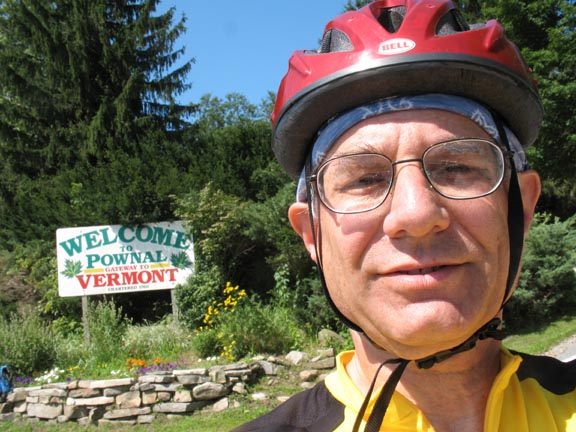 And I had a great day at the Clark in WIlliamstown, O'Keeffe and Dove, their new space you have to hike up to, generally feeling good, treating myself.
And while Andy was doing his three state ride, Joel biked around Lake Tahoe in CA! Even more miles, and high altitude.
We dined-- very nice-- in the bar off the bar menu at Pearl's. Big burger for Andy, a salmon sandwich and a Bass-on-tap for me.