International Workers' Day? Pagan Dance of the Maypole? Commemoration of the Haymarket Martyrs?
A Holiday Worth Researching, because of its amazingly different celebrattions. A good place to start is with Wikipedia, but if you already know you are commemorating the Haymarket Martyrs, take a look at Shelley Ettinger's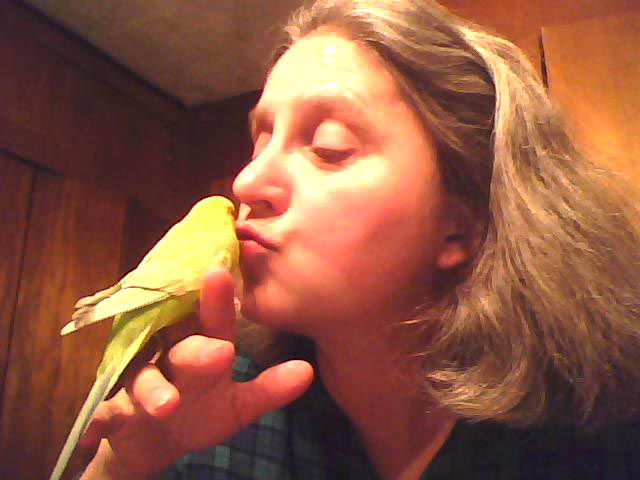 blog and her list of books about Haymarket. One way of looking at the holiday is to distinguish between "green root" celebrations relating to the ancient rites of spring and the "red root" celebrations that relate to labor and the struggle for the eight hour working day.
Shelley is off marching today, but I'm home enjoying my first actual writing day in about three weeks--that is to say, I've been writing on a book for the Newark Museum Arts Catalyst project, but today I could actually take a look at my own private, on spec, no one is expecting it, no deadline writing.
Or, just play with the parakeet.... (photo taken with the built-in web cam on the little bitty Acer).
\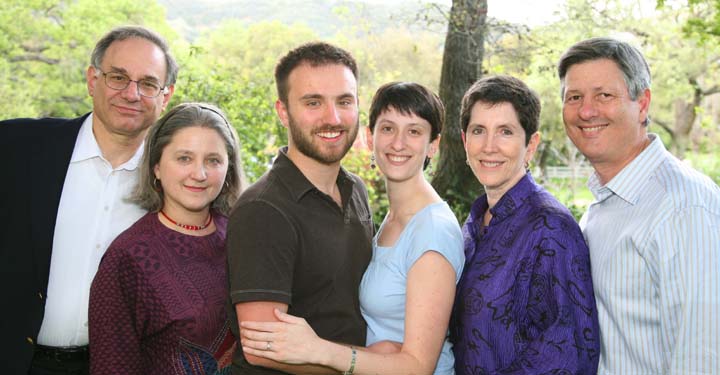 Andy, MSW, Joel, Sarah, and Sarah's parents Jan and Phil Zakowski on Passover at Sarah's grandparents' ranch near Los Angeles
Joel and Sarah got engaged!
April 22
In Honor of National Poetry Month and Just Spring.....
Spring Scumble

Commercial buildings' sharp edges
Climb the low hill: flat roofs, one church steeple
And then a soft explosion-- a blur of
Trees awash in filmy lime yellow.
No question now it's leaves,
That mist and spray of pastel green.
The sky just clearing: pale clouds pale sky
And the sheer curtain of color
Inexorably spreading the new.