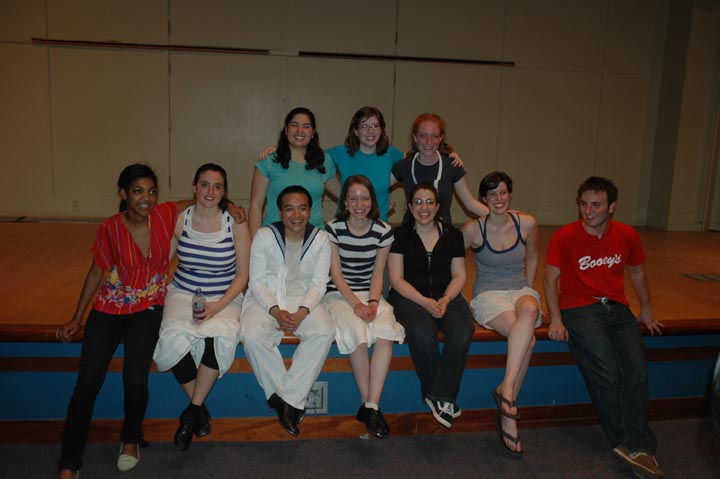 More pix at pictures
May 7
We're back from a whirlwind visit to Brown where Joel had his final dance performance, and Andy decided we should buy flowers for Joel-- all the nineteen years of him dancing, and all the little girls in tutus who got flowers-- and we never gave any to him till last night! Sarah gave some to him a year ago, and the dance team gave some to the seniors, but these were Joel's first. He danced very well, and the show was extremely well choreographed and organized this year with funny bits of patter between routines while they changed clothes, and once Joel changed behind a sheet on stage! Some of the girls were really super, Camel on the front row left above and Meg on the top far right plus Sarah F. on her right in a blue tee. ALl of them really, but it was the wholeness of the show that stood out for me. A really nice turn out too, lots of Joel's CS friends, including an important professor in his life, Shriram, who (they tell us) shouted Take it Off or something like that from the back row when Joel was changing clothes! Oh, and Joel shaved off his moustache in the middle of the show-- offstage that. And one number was called "Billy Joel Weinberger!" And Meg and Sarah F. did "Moses Supposes" again with Meg's dad onstage as the benighted elocution professor.
We had a nice time with Sarah, too, riding up, riding back. She just left to drive to D.C. today, straight to work. Joel has projects, one final, has finished classes. "It kind of sneaked up on me," he said.
Well, lots to say good-bye to, but this was a lot of fun and I'm working on my upper lip stiffness quotient.