December 3, 2006
The NJ Arthritis Foundation Gala last night was super-- lots of friends, lots of incredibly kind words, people who cornered me to say Andy was the one doctor they would turn to if they needed a rheumatologist, patients who bought ads, patients who sent in kind words for the souvenir program, Elliot's funny and lovely intro, Andy's voice pitched high and tremulous in his emotional state as he began speaking, but increasingly strong as he spoke of patients who inspired him.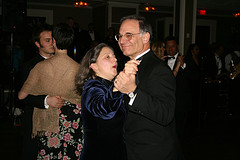 David and Ellen there, Joel and Sarah looking charming as they danced together. It was wonderful to see Andy so honored. Most of what he does is one-on-one. To see someone you know so intimately in the everyday way held up high, turned to the light, glowing.
Photo by David Weinberger. Joel and Sarah in background. Andy happy, MSW singing along with the band.