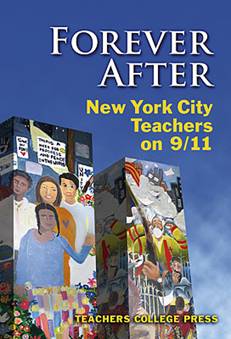 September 8, 2006
Yesterday evening I went to a book party for a publication that I had the great privilege of helping bring to life. This book from Teachers College Press is a collection of the stories of teachers who were working in New York CIty on September 11, 2001. Some of the teachers literally had to flee with their students with ash from the collapsed buildings falling on their heads. Some had to set up four different classrooms during the coming year. There is a piece by a young woman who was a student at Stuyvesant High School at the time who, with her classmates, saw people jumping off the buildings. There is a piece by a Muslim teacher who was threatened afterwards because she wears the hijab head scarf. These are wonderfully written stories of witness, and it was my great good fortune to have been called in as a writing coach for several sessions in late 2003 and early 2004.
This is one of the most satisfying teaching assignments I have ever had. I had felt wildly useless after the attacks on the World Trade Center. I wasn't a trained EMT. I didn't have anyone close who had a direct death there. I lived near enough to see the smoking site but not to feel that I had been attacked the way my friends who lived in New York City did. So when I was called in to do workshops with skilled teachers and administrators who didn't necessarily aspire to be writers, it was frightening but deeply gratifying. Some of these pieces I had nothing to do with (the Stuyvesant student, for example, I never met till the book party). But others actually began their pieces with writing exercises I offered, and I see that many took my suggestions. There was also, of course, a two and a half year long editorial process for most of the contributors with a special editor, Maureen Grolnick, who worked long and hard. The pieces are powerful, even stunning, and I am so proud and gratified to have been even a small part of this project.
Teachers were heroes, too. And the ones who don't count as heroes (they literally saved children's lives-- all 20,000 public school students in the immediate Ground Zero area lived) have important things to say about surviving trauma, about helping young people deal with trauma, and perhaps especially about a facet of human experience that most Americans know only most abstractly: the direct effects of human caused disaster: terrorist attacks, acts of war-- things that our nation has cruelly continued to perpetrate on others even as we have been largely spared, with a handful of terrible exceptions.