September 4, Labor Day 2006
We're back from the lake, lovely lake, quiet and cool and closing in on itself today. I suppose a gray Labor Day week-end leads you to be less sad at closing the house. We had a typical busy Weinberger week-end with lots of laughter from David and Nathan, Ann study to teach a class on the book of Jonah at her shul, everyone alternating between computers and eating and a rousing game Saturday night of Fictionary. Today we divided up the food, vacuumed, changed beds, brought in the hammock and the docks, put away the rowboat, etc. etc.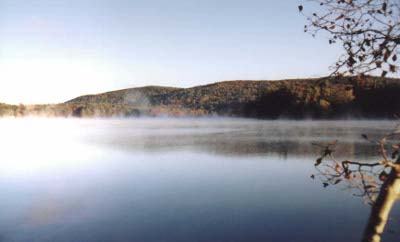 And all got off by noon!


September Lake Buel

Tonight's hills lean in–
Canada geese dogs crickets–
Green, green near my face.
September 2, 2006

Andy and I had some traffic coming back, but not terrible, and went over to Tony and Mary Sciaino's to catch the end of their Labor Day barbeque, Marygrace and Bill Robinson, Helen and Mike Dalbey, Ryan, Jane Rauen, Heather McNamara and her husband-- they were ready for dessert, but Tony tossed burgers on for us. I'm tired, enjoyed all the folks.