Christine Willis and MSW on Octrober 28, 2008
October 29, 2008
It's Wednesday, and I'm exhausted after a night at my sister Chrissie's in San Luis Obispo. Joel drove me down as Andy still had the conference. I worked yesterday morning Tuesday, and then took the BART out to Berkeley where I was picked up by Joel and we headed down 880 to 101 through Oakland then South Bay then towns like Gilroy and Bradley in the middle of farming nowhere (garlic! kale! cabbages! romain lettuce!) and then to San Luis Obispo. I really enjoyed riding with him stopping for Bun and Run I mean In and Out, talking talking about religion about our family about Sarah's family. Chrissie was home to meet us, then Goro arrived with an enormous platter of sushi which we consumed with gusto, and then custard pie and home made brownies and figs from down the street and Japanese persimmons from Chrissie's tree.Finally a long walk with Chrissie, stunning stars and milky way overhead, cats she petted, friendly Tillie and Marvin, feral Sophie that sleeps outside her sliding doors, and a conversatin about religion and other big topics. Bed, got up early, drove 3 and a half hours back, Joel and me talking all the time about family, religion, and economics. We stopped at Garlic World or something lke that in Gilroy.
Back, Andy done with conference, we had lunch and Tartine, then walked past mission Dolores, and he went off to ride the Cable Cars and I to the Asian Museum where I overdosed on narrow waisted Hindu gods and calm golden buddhas. Much bigger museum than I expected.
Then dinner at Shalimar in the Tenderloin and a drink at Bourbon and Branch. Hard work, having fun!
October 28
Notes on the Contemporary Jewish Museum yesterday: Beautiful, clean, relaxing space. I would have paid at least half the fee just to walk around the space. I adored the "In the Beginning" exhibit, especially the aphorism-God slot machine game. It made me laugh out loud. Actually, all the participatory works engaged me a lot-- I made a contract to create a word/art work, stuck my face in the big metal Gramophone thing. Andy Warhol's ten top Jews of the 20th century was fun, too. Had a great time, altogether.
October 27
Report on yesterday: journal and reading in the a.m., then Joel and Sarah picked me up and we went over to the Mission District to to Precita Eyes for the mural tour. Precita Eyes, which appea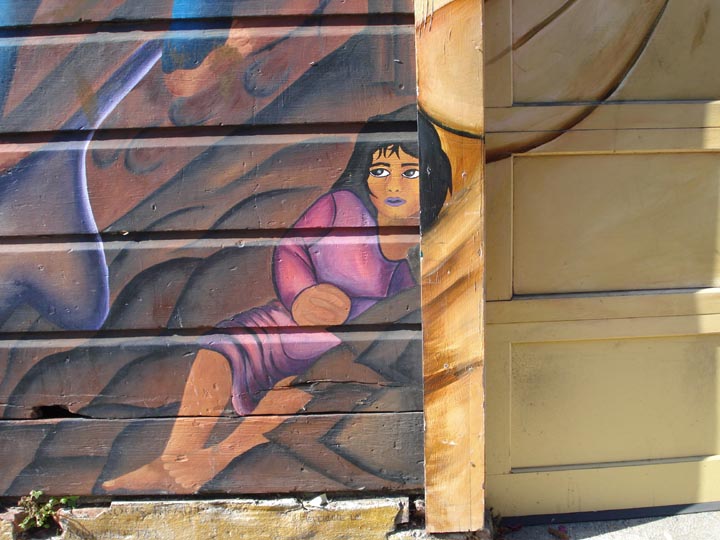 rs to be run by artists of the old hippy and hipster variety, the office actually is a working space with post cards but also materials for sale and workrooms. Everything nice and funky. The tour guide was a crusty 70 year old who looked like people I know, three day beard, big headed Jewish from San Francisco and Richmond and East Bay. Loved the little Balmy Alley with murals all along, from last year to done in the seventies. The tour ran an hour and a half, and part of what impressed me was the rehabs of old work, the occasionally little tags by graffiti artists, the sheer exuberance.

Andy met us for Shanghai dumplings, then he went back to a meeting and Joel and Sarah and I went on to Muir woods which was much for fun than I expected because of how we ended up on a semi strenuous ( "moderate") hike on reddish yellow redwood duff, up a hill quite steep, in deepening dusk/fog. Then we met Andy back downtown and grabbed fast food at a food court and went to see W. ! So that was a super busy day, and today was quieter, revising an article for Appalachian Heritage then the Jewish Contemporary Museum with a great exhibit of artists reacting to the first chapter of Genesis. Then I hung out here and there, at the pier watching birds and an otter, coffee and reading, Borders, finally meeting Andy and Sarah and having dinner in Oakland at Zachary's pizza with Fenton's homemade ice cream and then home. I'm beginning to get into this indulgence and relaxing.




October 26

Joel, MSW, Andy, & Sarah on Saturday night at a freeloaders' delight for rheumatologists & friends
Andy took off very early for meetings and I went down and did the stationary bike for ten minutes, have been reading The Third Chimpanzee by Jared Diamond. Today, Joel and Sarah are taking me to the Precita Eyes tour and then maybe dumplings, maybe Muir woods. Not sure. I'm really feeling on vacation, eating mucho too much! Yesterday, as today, it was Starbucks coffee and muffin to start, but then we had the lunch at Chez Panisse, and my first trip to East Bay, West Oakland looking pretty funky, North Oakland and Berkeley as pretty and cute as can be. Young professionals and young families country, the inexorable sun and medium heat, the tropical traces: palm trees, brilliant purple vines and red, and some huge hanging yellow blossoms. Houses mostly single, although J & S are in a six unit apartment, and the ambiance is of small craftsman style cottage houses, not much property per house, but trees, flowers, and this style I have trouble naming, which is part craftsman, part a wooden interpretation of Japanese? Berkeley campus quite stunning, on a slope, a gorgeous giant eucalyptus tree grove that blew me away. Sproul square, the free speech movement A "free speech" café full of kids and laptops, and images of the free speech movement.
Before that, though, Chez Panisse: again the lovely cozy wood, rafter, brick style. Open kitchens to watch, a yellow tomato soup with creme fraiche that was splendid, and pesto ravioli with tomato coulis for me, some name brand ranch turkey for Joel, salmon with corn and cilantro for Andy, and etc. etc. Glass of wine, plus desserts. Too much, and then in the evening, a big drug extravaganza at the Museum of Modern Art, the whole lobby with tables and foods stations and wine tastings! Sushi, shrimp! I really loaded up on shrimp in hopes of not entirely gorging. A walk through the museum's modern holdings, a little O'Keeffe, a couple of Riveras and a Kahlo, lots of Klee (arthritis sufferer) and big nice red and black Rothko. And then back down to sit near the dessert extravaganza (creme brulee! Tiramisu! Cookies, berries with whipped cream oh my). Long conversation about drug companies and their relationship to doctors, to ethics, to capitalism.
I think I want to ask Sarah sometime to day what she thinks of the endless arguments.
And the big news: Tak and Chiaki had twin baby girls!
October 25
Saturday morning in the Hotel Whitcomb in San Francisco, regrouping! The room is small, but the hotel is terrific with high ceilings and a sort of marble and steak and whisky mahogany elegance in the public areas. It was once, briefly, the town hall of San Francisco.
I've got my Starbucks coffee from the shop downstairs at hand, and I've had an apple-bran muffin and read a little in the New York times. I'm headachy and all, but slept reasonable considering that we had dinner at eleven p.m. Eastern Daylight. We ate at a neat place called B-Star that is Burmese Fusion– Sarah had soft shelled crabs and deviled tea eggs, and Joel had a neat thing with meatballs and rice porridge, Andy had a fancy salad but with the peppered french fries and curry mayonnaise! And I had an absolutely delicious wild rice dish with peanuts, cilantro, red cabbage, and shiitake mushrooms– I don't know that this sounds as good as it was. Ginger lemonade, etc. And a big helping of discussion about religion and belief in God! Andy takes the position that we probably shouldn't have discussions like this, and Sarah's family, as I understand it, prefers to avoid conflict, but Sarah likes to discuss, and Joel and I apparently adore this.
We had just been to services at Beth Shalom with plenty of singing and good feelings. At dinner, we had a big religious discussion: Andy takes the basic line that If there is an all-powerful ostensibly loving God, what the hell does he think he's doing with the Holocaust for starters? Sarah essentially is deeply culturally Jewish, but sounds like a Deist in belief: God may have been involved in a daily way at one time, started it all rolling, but no longer. Joel is looking to believe, and was never satisfied with Ethical Culture as a religion. And I'm looking for the psychological connection (and I do believe this) that we all humans have experiences, awareness of something greater, epiphanies, mystical moments, connections to the oneness, whatever, and we put it in various containers built of culture.
So except for being really tired, that was fun.
It was an okay flight, rather a lot of turbulence that I breathed my way through, eyes closed in and out. Xanax thank you. I didn't sleep as much as I'd hoped, but (is the drug an amnesiac?) I don't remember suffering too much. Stuffed 737 plane, whimpering and yowling babies, but not as bad somehow as it could have been. And I didn't get out of the seat the whole time. So something was relaxed. Dry muffin in the airport, biscuit and egg and fruit on the plane plus a tiny yogurt later, then a big La Taq burrito that left me feeling bloated the rest of the day and finally that meal at night. So that looks like four or five meals yesterday, and we're scheduled for lunch at Chez Panisse!.