July 19
I've got a lot to do today to get ready for my four days going to coming from and being in West Virginia. I just worked on three questions about integration for the Coalition website, and that felt good, I always like these concrete tasks with beginnings and middles and ends. I've got a lot of those tasks today: cutting the grass in the front of the house, cleaning the parakeet's cage, etc.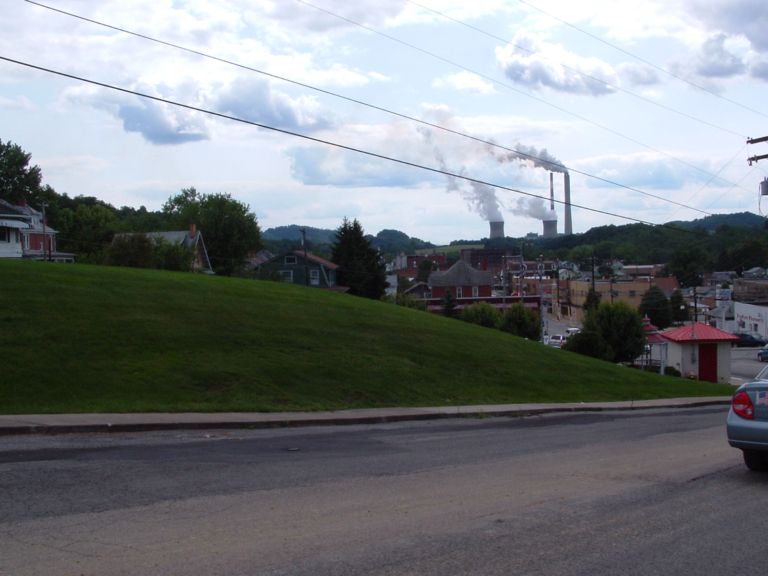 The heat has broken, although I'm still pretty hot this morning: a sunny day up in the eighties. Deaths in Iraq now hitting over a hundred a day.
To all those who said: Aren't those poor Iraquis better off with Saddam Hussein gone? I say: ask the ones whose children and mothers are dead in the chaos over there what they prefer. Maybe they do prefer war lords and religious militias over a brutal dictator. But did anyone ever ask them? In particular, did our administration ever ask?
I'm going to make a dash to Shinnston, back soon, but no blogging till I'm back.
Photo of Shinnston from High School Hill looking north by Phyllis WIlson Moore.
July 16
We've got a heatwave coming at us. I sort of wish we didn't have accuweather, or maybe I just wish I ignored it. Maybe if you grow up in the city or the suburbs, especially if you grow up with air conditioning (and have it now! or work in an air conditioned space!) you don't pay any attention. But, maybe honoring my dear departed father, I always check the weather, so now I know we're going to have high nineties the next couple of days, and I'm going to be up in my office at least one of those days sweating with my online class. And if I didn't know, would I just then greet each day with hope and expectation of pleasant skies? Proably not.